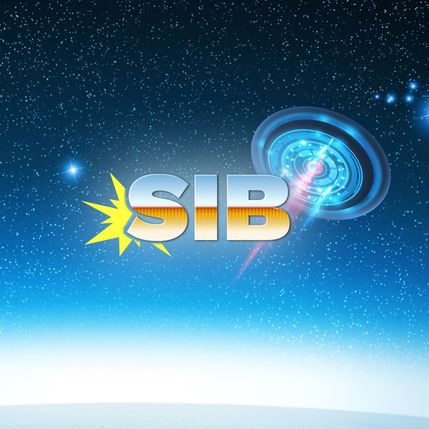 There is a stellar ROCK musical duo coming out of Hamilton, UK and their name is Captain SIB.  They have been making music for nearly 20 years.  Half of the duo is the lyrical and vocal genius and the other half is the musical mastermind, but it is the combination of this intergalactic duo that makes their music contain what we have learned to love – meaningful lyrics, otherworldly beats, and originality. 
Even though these guys have not performed any of their cosmic cuts live yet, we so look forward to seeing them perform soon in the upcoming year.  This will be a great show and I would be in the front row.  I think the live performance would be like Bowie combined with Queen and the Rolling Stones – a darn awesome theatrical performance. 
Giving the guy's their just applause is certainly well-deserved as not since Bowie have we, the listening audience, been given the wonderful opportunity to listen to such great music filled such electronic infused syncopation in excess. 
I was granted permission to explore Captain SIB's musical vault – inside was a plethora of songs.  Eight tracks pulled me into the band's trajectory: 
1) "Your Dreams"
2) "The Storm"
3) "Light Up the Dance Fires"
4) "Drowning"
5) "Einstein"
6) "Goodbye"
7) "Ballad of a Fading Robot
8) "Stripping the Soul" 
This is a compilation review of Captain SIB.  Ground Control, you have permission to explore Captain SIB's musical vault!
Let's start with "Your Dreams."  I've read this song be compared to Supertramp and Jethro Tull, and at first listen, I agree; I could also add that this song is reminiscent of Queen and Sir Elton John, but that is just the surface – the sound.  Now, lyrically and construction-wise, this song matches the type of music The Beatles were recording at Abbey Road Studios decades ago – songs about self-expression and originality (i.e. "Come Together").  This song is a perfect blend of Bluesy Rock and Folk with a proto-metal roar.  Solely, this song holds the scope of the band's unique talent in its entirety – from the lyrics "purple raindrops paint the vision in which we fly," to those prevalent piano chords, to the stimulating vocals, to the organ, cymbals, and the spacey synth effects – these all paint a self-portrait of a band we have grown to adore – Captain SIB.  The twists and turns, the symbolism, and the polished production all makes for a really cool track with attitude.  I love the fading of the ending.  In the words of Billy Idol "If your world doesn't allow you to dream, move to one where you can." 
"The Storm" is a synth-filled colossal that starts with a mellow string-line and plays like a film score.  This song is one of the very few where both Iain and Stuart's vocals are on the track.  With mainstream appeal, this Pop throwback to the 80's is very niche-specific with its euphoric sound.  I love the unison on the vocals as that duality shows the strength of the duo.  The way Stuart composed this music's track is beautiful.  A song about a young femme fatale, this track has easily become a favorite in my circle of friends, my sister Tonya suggests this track be pitched to movie houses for the upcoming James Bond movie – I agree!  I cannot wait to see how far this goes. 
"Light Up the Dance Fires" is a song about the loss of an old friend that does not leave you in a pitiful state – sure it has the weeping piano and the tender sorrowful vocals, but the high crisp notes of the main piano track pleasingly makes you feel that everything is going to be okay – the sun will shine after the rain so-to-speak.  I would love to hear an acoustic version of this!  Iain stated that the line "Steal giants bow their heads" is a nod to Winston Churchill's funeral down the river Thames as the cranes in the dockyards dipped in respect – what great imagery.  But with Iain's clever imagery, I also see how this illustration can reach further into our political society showing the HUMAN aspect of leaders, as political figures are also seen as steal giants that are unbendable, but when mourning, even steal giants can bow.  Listeners of this song will hear an amazing assortment of tones and a piano that dominates every emotion – it plays like a mellow opera. 
On the track "Drowning," the symbolism is so practical but makes you think on real life matters that appear fragile but bears on your brain so heavily.  The way Iain used a softer tone on his tracks made me cry – it really pulled at my heart strings. "Drowning" speaks on the topic of homelessness and desperation – a topic that sadly remains in our society.  But, I'd like to think that songs written by indie artists like Captain SIB have the power to reach corners where people within our society escape and live, which in turn will alert and put into motion institutions who are able to help, thus healing what seems to be a never-ending social wound.  
The genius of it all.  "Einstein" is a track that stays with you when you finished listening to it.  That solo piano along with the wood winds simply frolicking in the back of those HUGE ripping guitars – genius!  Lyrically, this reminds me a little of Thomas Dolby's "She Blinded Me with Science" in that it incorporates the parodies of the vocal portion of our society mixed with the splendor of music – this is going to gain a cult following as the MTV generation is going to love this song.  The anthem appeal is superb!  I love the TV announcer effects on the lead vocal which shows how there is always a small voice speaking big things in the world – the same world who crowns you a genius and then forgets about your creation.  As the lyrics so aptly say, those brilliant-minded people create large interventions to help mankind but mankind in turn forget.  This piece is Psychedelic Rock at its utmost form.  Indeed, 'have you seen Galileo's piccolo?' 
If ever there were a song where the guitars not only took center stage, but were also the headlining act, I would say that "Goodbye" is THAT track.  The double-stopping, the intervals, the sustained vibrato, all display the duo's Rock power.  Stuart's ingenuity and talent shines on this track – it is sublime and rocking awesome the way he composes music.  And the lyrics, wouldn't any woman like to be a man's paradise?  I think so.  The shredded sonorous guitars blazing all salute the grandeur of the muse.  
Man, one cannot ignore the introduction of "Ballad of a Fading Robot."  That muffled heartbeat of the bass drum just pounding anxiously in the beginning of the track easily made this my favorite piece in the collection.  The tragic existence of an artist is the lyrical subject of this piece clearly defining the constant struggle between an artist and the industry – the music industry.  It depicts the brutal reality of how we all can become robots in the process of trying to gain recognition or even trying to establish ourselves in an arena that is so crowded and unforgiven.  And every musician, singer, writer, and/or performer knows that sometimes in order to make a living doing your craft, sometimes, there is a price to pay, and sadly, while trying to take a hold of your identity, you lose your identity.  As Iain sings "He's just a robot flying out there alone; control his destiny, his mind is not his own."  You do feel "lost" and out of place.  It is a sad reality where the price of fame is more of a true statement versus a cliché.  Here's to the fallen music warriors and their dark dramatic stories; and, here's to the artists continuing to carry the torch! 
"Stripping the Soul" is a Heavy Metal track that gets your pulse going and delivers the message of how any external factor of life can strip at your internal, but you have "to keep dreaming on" to regain the reason for existence in the first place – no need to give up – keep on going!  This track starts out dramatic and then turns into a driven, head banger with heavy distortion and high volume and it works on so many levels.  The hook is AHHmazing and the higher octave unison is a major element in making this track go to the next level.  Honestly, you are on your feet the entire time you're listening to this cut, then all of a sudden you stop – there is a pause, and then Iain takes a breath (I LOVE THAT) and yells "He's calling out your name!"  Seriously, when Iain takes that breath in this song – OMG – the song goes over the top!!  This is what I used to LOVE about REAL artists in the decades past that made music, as their emotions were so driven; no emotion was held back.  Today, to hear a singer take that deep breath, and pour out their soul until there is no more words, takes a song to another universe of reality.   
A band before their time, Captain SIB had that Neo-Soul Alternative Rock Grunge style decades before Fitz and Tantrums published their 2017 hit single "I Can Make Your Hands Clap."  Proof that some of the most hidden gems are worth the wait. 
The writer and main vocalist of Captain SIB is Iain Fraser.  Iain's ability to free-flow vocally to the music and give it a rich dialogue to build a hit is phenomenal.  His vocal range is a subtle baritone that pleasantly rides your soul.  Equally as passionate and talented is Stuart Ireland. 
Stuart is perfect in making music that suits the message and he has made improvisation an artform.  Each song is laced with the correct instrumentation and timing.  In addition, the finished audio is simply needle-sharp with precision.  If you listen closely you can tell the man knows his skill using MIDI and has a hands-on approach to both Real-time sequencers and Analog sequencers – each punch and each pitch has its own purpose. 
And the mutual respect these guys have for each other resonates through their music – each knows what to bring to the table to establish and complete the music. 
Like the late, great, David Bowie, Captain SIB chooses to trail away from the normal aspect in music and they have a penchant for sophistication and pervasiveness.  They also draw similarity to the late great icon's work ethic as they put the greatest priority on perfecting each message within each track while leaving the MUSIC to speak for the artist versus the IMAGE speaking for the artist – "L'art pour l'art" (Art for Art's Sake) Theophile Gautier (1811-1872).  Seriously, they are resurrecting a part of music history that the industry was forgetting.  Their work is theatrical as its only aim is self-expression and that in turn allows for the audience to take away what they feel excites or speaks to their natural perception, but this also cleverly solidifies the artist's message by acceptance.  Their music also touches both elements of our –culture – the Intrinsic and the Extrinsic. 
With new music and a new direction, they are slated to orbit onto the live stage and our hearts.  There's an audience out there just waiting to see these guys perform live.  It would be criminal not to dig this music.  
To listen to more of Captain SIB's music, go to:  https://soundcloud.com/captainsib or follow them on Twitter @captainsib.