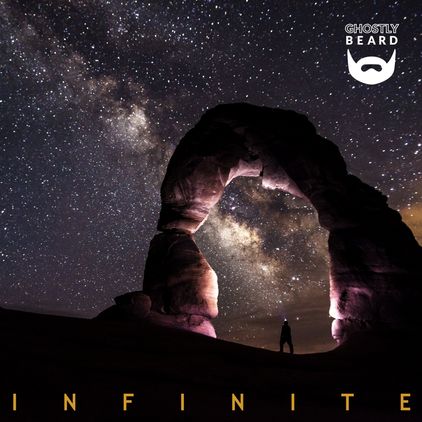 Ghostly Beard (Patrick Talbot) is a singer, songwriter, and musician from Montreal Quebec Canada who has a mysterious vibe – let me tell you why!  
Initially, you will assume less until you pull back the cover and find so many layers.  Layers and layers of diversity mixed with passion and allusion.  And this makes this artist magnificent and tempting. 
At first hearing his music, you quickly think about the 1980's iconic artists like McCartney, Gabriel, and Genesis, but then you slowly begin to hear another layer with shadows of Sade, George Benson, and Carlos Santana all entwined with his very own panache which signals an artist who has honed in on his own presence in music. 
Only a true architect of music can skillfully layer multiple genres and blend them so well into a riveting, soothing, crisp composition.  This is a review of Ghostly Beard's most recent EP entitled "Infinite."  Five tracks open and close this EP: 
Close Your Eyes
Frozen In Time
No Return
Limitless
Winter Dance 
The EP opens with "Close Your Eyes."  The title of this track alone is alluring, so I closed my eyes and listened to every nuance of music and lyric.  This song starts slowly and builds up to a steady mellow poetic like track with silky violins ebbing and flowing throughout.  You would think it is a folkloric ditty, but then you have Ghostly Beard's smooth strong vocals emotionally appealing to your core and you are awakened to a different piece – a Jazzy Rock engulfed composition.   Like a lyrical gift.  The violins rip and then you hear that awesome guitar solo crying sadly cutting deep into your soul – it's like a musical spinal tap!  Did I say that guitar was speaking to me on so many levels?  Oh, okay.  I love surprises!  If you love Julian Lennon, you will love this piece. 
"Frozen in Time" echoes a more Progressive Rock Bluesy exotic feel with the crawling guitar, gated reverb, and smoky vocals of Ghostly Beard.  "I will wait for you" he says softly – this song sings like a short love note from one's lips to another's ears.  To be 'Frozen in Time' waiting for that special someone takes commitment to a whole new level.  
The third track "No Return" is easily my favorite!  The lower tone Ghostly Beard takes on this piece is thrilling and alluring.  An eclipsing track.  It's not spooky; it is sensual in all of the right ways.  So many instruments played well within this track and they laced Beard's vocals splendidly.  And then that GUITAR spoke to me again . . . . I think it is amazing the way Ghostly Beard gives the guitar its own lyrical presence so-to-speak – it dominates softly.  The tribal percussions battle out towards the outro and then BOOM!! It explosively ends subtly.  This track was placed on repeat!    
"Limitless" is a relax by the fire song, the sipping champagne song, the waiting for a kiss on the neck song.  I love the way this song starts.  The heart fluttery lyrics and appeal of Ghostly Beard's mellow second tenor is so soothing and pleasant.  The words of this song are so beautiful – "My Love will be limitless."  The alliteration and enunciation on this track is purely sublime.  Not since Christopher Cross' "Sailing" have I heard splendid laid back pure Soft Rock.  Again, the guitar speaks to the listener's subconscious filling in all of the blanks and connecting all of the dots. 
"Winter Dance" is the final track – an instrumental track that is Santana-worthy, but better!  In three minutes, Ghostly Beard takes you from point A to point B emotionally without singing one word.  This time, the guitar takes center stage along with accompanying jazz instruments to exhibit one emotion "DESIRE."  
Adrian Jenkinson and Andrew Gosden did a fabulous job in executing the final mix and mastering of Ghostly Beard's musical vision.  This was a great production on 'Infinite.'  You can hear the passion, the journey, and the vision. 
Trust me, this will be the best twenty minutes of 'limitless' musical pleasure you will ever experience.  Ghostly Beard is a guitar genius!  The way he manipulates and reshapes the chords of that instrument is surgical and marvelous. 
In addition, the elements of Soft Rock, Pop, Rock, Jazz, and Blues all melding together with chords of the bass and lead guitars, the mellow hi-hats and bellowing percussions, as well as that racy second tenor made "Infinite" a treat!   
And one splendid thing that Ghostly Beard has done with this EP is resurrect a genre of music that had been lying dormant to our ears for so many decades – Soft Rock.  Soft Rock used to be a dominating genre in the 1970s/1980s and rightly so as it hits on all of the emotional parts of one's soul.  It was music that made you think.  I am so overjoyed that Ghostly Beard is making music like this, and I am honored to have reviewed such a classic, and timeless, piece of work. 
Musically, rhythmically, and vocally layering his EP with so many facets within music makes this EP appeal to all audiences.  This music will never die – it will forever remain "Infinite." 
Which song is your favorite?  Please comment below and let me know. 
To hear more songs, purchase the EP, or connect with Ghostly Beard, go to:  www.ghostlybeard.com.