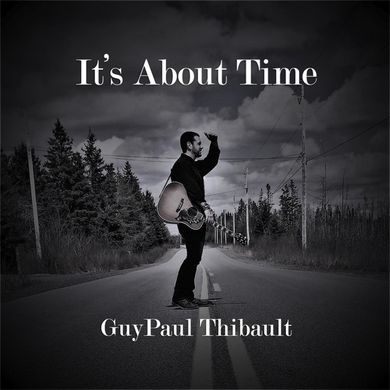 Guy Paul Thibault's 2017 release entitled "It's About Time" comes at the right time; because it IS about time we get the opportunity to hear a rich, sultry, baritone vocal on a Rock track. 
I used to think, "where have all of the baritones gone within the Rock world?"  Seriously, did that classical voice die with Elvis, Bowie, and Hendrix?  I mean, yes, I would hear that vocal quality in R&B, Soul, and Country music often with Trace Adkins.  And I cannot forget the wannabe baritones in Boy-Band Pop.  But the only baritone I could find in Rock music was Axl Rose.  Until NOW! 
I have finally found another Rock artist with that rich, trained, classical baritone voice that gives an emotional delivery.  The type of vocal prowess that never has to force notes.  His name is Guy Paul Thibault. 
Guy Paul Thibault (known as Guy Paul to many) is an accomplished singer, songwriter, musician from Nova Scotia who has written, recorded, and produced six solo CD's  that has received national and international press coverage, including an article in the prestigious UK "Guitarist" magazine.  In addition, Thibault has also successfully accumulated over 250,000 downloads and sold CDs from every continent on earth.  And if that was not enough, he has also produced, co-wrote, and engineered Brazen's debut CD. 
And of course, Thibault has that rough around the edges / bad-boy look that us females just LOVE in a rock star topped off with the tattoos, five o'clock shadow, guitar, and boots.  So that is why I like to call Guy Paul Thibault "GPT" as those three initials are so fitting for Rock N Roll Icon status – isn't it?  G.P.T. CLASSIC!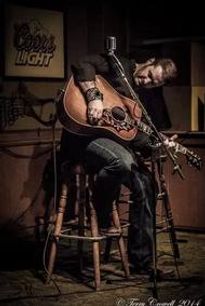 If you are in Nova Scotia, be happy as you may run into this Rock N Roll heartthrob singing and playing somewhere close to you, if not, please take a listen to this EP. 
"It's About Time" has ten AH-mazing tracks: 
1) Here She Comes
2) Misdemeanor
3) Hills
4) Tallest Man on Earth
5) We Just Don't Care
6) Saving Grace
7) Saturday Night
8) Stay (For Riley)
9) If I Had
10) How Far Could I Fall 
While every song on this EP is concert-ready, there are five that are the headliners – this is a review of those five (side note: I will be referring to Guy Paul Thibault as "GPT" in my review). 
Let's start with the 1st single that was released off of "It's About Time" that has become a fan favorite – "Misdemeanor."  This song is built like it has just come off of the Ford conveyor belt – HEAVY with great lyrical imagery, suave vocals, blazing guitars, and anthem-like hooks.  In a very descriptive manner, GPT defines the bad girl in the crowd that men love to date and women love to hate – think Disney's Maleficent wearing nine inch heels and you will have the muse of this track.  A crowd pleaser, "Misdemeanor" will have you singing along with its strong kick and happy "na, na, na, na, na, na" hook.  Not to mention GPT's intense vocal delivery and guitar playing – when he sings "Miss Misdemeanor, Miss Misdemeanor" it is as if he's looking straight at you strumming his guitar.  You can feel the eyes in this song.  I have found my new theme song! 
There is not much more to say about "Hills" because once you hear GPT's vocal introduction, JUST drop the mic son!  But, let me say something else anyway.  This Folk Rock track is filled with mystery told from the point of view of a man toughened by life's struggles and battles but has since became softened by forgiveness.  The honest storyline musically plays like a thriller on the big screen filled with death, sorrow, growth, strength, vindication, and brutal reality.  Laced with a crying harmonica and thunderous guitars, how can this song NOT be playing on the radio right now for everyone to enjoy?  This song really exhibits the strong baritone of GPT's voice – that raspy arena strength fueled by an amazing rhythm section. 
From the heartfelt opening guitar solo, "We Just Don't Care" builds into a wakeup call to our society.  Touching on the subject of social ignorance and the lack of empathy, GPT cleverly chose to sing in a lower register to broaden the emphasis of a debauched, commonly overlooked, social issue.  Honestly, from our government's status, to the issues with race, pride, bullying, cyber hate crimes, etc., it is as if we really just don't care because many feel that this is just how we are now.  Supporting the song's theme, GPT sings "sacrifice is such a lonely word / there's not much left in this world / we're all trying the best we can / can't see the beach for the grains of sand / this is how we are now / and we just don't care."  The 2nd single released off of the EP, this cut has gained much attention with its alarming guitars, crisp cymbals, current message, and that heavy, funky vocal line.  The lyrics to "We Just Don't Care" echoes pure truth while the guitar solo is sublimely sustained to carry over into the heart throbbing percussion – just another "thumbs up" for GPT.  Loaded up guitars like a sawed off shot gun closes this well worth the wait track!  
And no one can ignore that percussion-filled introduction of "Saturday Night" the seventh song on the EP.   This track hones in on that Roy Orbison classic Rock N Roll vibe we all love – that simplistic melody driven by layers and layers of instrumentation.  Moreover, the drop-off bridge that keeps you guessing adds a nice twist and the "I" alliteration with the line "got no alibies / and I don't know why / just a lonely Saturday night" gives the impression of the self-centered attitude that is often carried by individuals on a night out – that "I'm gonna have a good time – all eyes on me – I got this" attitude.  One listen to this cut and you are instantly transported to a heavily smoke-filled club or bar, with musk and cologne lacing the air, outfits on fleek, and drinks being shared in rounds.  With a great open-ended conclusion giving an invite to the next Saturday night, and GPT's concluding open dialogue, "Saturday Night" will put you in that weekend frame of mind. 
"How Far Could I Fall" is the final song on the EP.  The way this song starts, the emotion is strong enough just with the music, but I love the exhausted quality of GPT's voice on this track – the raspy, quiet, "I'm done" sound adds a whole other layer of emotion.  The way he vocally approached this song makes you think of a man who has fallen, has gotten to the lowest point in his life, and he's trying to make his way back up.  And, it's those splendid layered guitars that give the musical effect of one trying to pick themselves back up, because as one guitar lets you go, another one picks you up, and it continues through each strum and modulation until it becomes almost as if you are being lifted by the guitars to a higher level.  
Like the Rock legends before him, Guy Paul Thibault wills the guitar as if it is an extension of his body; never mechanical, just surgical.  And the "put up or shut up" approach to his songwriting is equal to Lenny Kravitz' method in that they both share a frankness to their style.  For them, it's just the way it is.  This is what they want to sing about/write about; no topic is off limits; what you see (or hear) is what you get – and the fans LOVE IT!  This brutal honesty helps build a realness to Guy Paul's character – there is no fake, wannabe-idol making this music – no, it's an artist fueled by his talent, his story, the groove – it's Rock N Roll.  
So, there is nothing conventional about Guy Paul Thibault's artistic creations – every song twist; every vocal tone; every texture laid on his tracks are unconventional and intentional.  With "It's About Time," Thibault pays homage to the late great Rock N Roll icons by respecting the genre, but progressively he is reshaping a standard in music that needs its REFRESH button pushed. 
This is what legends are made of! 
To hear more from this Nuevo Rock N Roller, go to:  http://www.guypaulthibault.com or follow him on Twitter @gpthibault.