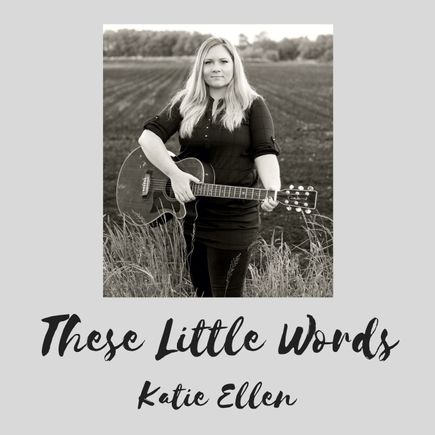 Katie Ellen is a Country Music singer/songwriter hailing from the United Kingdom who is as multifaceted when it comes to music as they come.  
A dual instrumentalist, she is skilled on the guitar and the piano.  Moreover, she exudes a writing prowess similar to Bob Seger and has a voice like a young Bonnie Raitt – the best of both worlds - it is pure Blues, Rock, and Soul spearheading this Country Music singer whose meek demeanor is laced with powerhouse talent.   
I was first introduced to this beautiful visual singer by way of her single entitled "Can't We Just Be Friends."  At first listen, I could tell she was a natural storyteller – the best type of songwriter.  
Writing songs since the age of 16, Katie just began releasing her music to the masses after years of performing live.  And just by listening to her recorded music, one can instantly tell that she is a great performing artist as she even knows how to connect with her audience through her writing – each tone, refrain, note, and/or chord was meant to be and clearly illustrates the full picture.  When she sings, you can actually see the entire performance play out inside of your head – honestly, you can grasp her eye contact, grins, and stance all while listening to her songs.  
In addition, Katie's songs are not cosmetic or related to ONE event like the majority of songs heard on mainstream radio today where the storyline of each song on an EP is either their experience inside of a club one night, or their first, or sometimes only, heartbreak.  No, her songs are simplistic and practical and evoke REALITY – many human experiences. 
As an avid story teller, Katie is passionate and very descriptive in relating her memories, experiences, and emotions.  And, when you listen to Katie's sweet Mezzo-soprano voice, it will captivate you, but it is her panache and mellow strength that will keep you there. 
This is a full EP review of Katie Ellen's "These Little Words." 
"These Little Words" pacts a big punch with five amazing tracks reciting the message of evolutions within relationships. 
1)  Can't We Just Be Friends
2)  One Reason
3)  Half Way There
4)  Your Song (Out of My Head)
5)  Half Way There (Piano Version) 
On this EP, Katie leaves little notes to tell a bigger story.  
"Can't We Just Be Friends" is the opening song to the EP.  A Country lyrical sweetheart note that meanders into a bit of Blues to soften the blow of taking that next step in a relationship.  The basic premise of the track displays that since friendships can be difficult, why make it more complicated by adding those 3 little words?  Katie's passionate mezzo-soprano is reminiscent of a young Bonnie Raitt and she wastes no time in proving she has what it takes to blow the house down. 
"One Reason" is an up-tempo track that was featured on BBC's 'Introducing' on the 17th of June 2017 (www.katieellenmusic.com).  It easily plays like a Bob Seger blue collar tune from the no nonsense pat of the guitar giving the feeling of a clock ticking, on to Katie's honest lyrics signaling it is time to move on.  Katie's vocals on this track are so soothing while the feeling behind the vocals excels little by little.  Never pitchy or boring, she builds your suspense with each modulation.  In the song, Katie heartbreakingly sings "I hate that I'm here/and that you're in control/and a million reasons I should stay but I gotta move on."  The reality!!  And, the sustaining guitar tipping off the refrain further helps drive home this tender point's intensity.  This off-the-cuff realness appeals to anyone who ever had to leave when every ounce of their being was pulling for them to just stay.  This would be the song that plays at the end of a long day – a song to vibe to sitting on Santa Monica Beach or Blackpool Sands while drinking a few cold beers to congratulate yourself for taking that difficult NEXT step as you draw a straight line in the sand signaling IT'S DONE.  Sometimes you don't need a reason to stay; you need a reason not to.    
A tender piano opens the third track entitled "Half Way There" a straight forward up-tempo track with a Pop kick to it featuring loaded percussions.  An inviting desert twang guitar effect evokes images of the sun setting, scuffed leather boots, and a smoke-filled bar inviting temptations to play.  This song realistically explains an event that can change everything in one night – the enchanted one-night stand.  Think of all of the thoughts and questions that one sifts through mentally tallying up the choices to either say "yes, let's" or "no."  In addition, Katie's lyrics also illustrate how flirting with that decision making process only gets you further to the point of no return, Katie sassily sings "I'm searching for my reason/temptation can be so consuming/it's the point of no return/But as reality sets in/I don't care, I'm half way there/I'm half way there." The high and low vocal tones and chord progressions on this track mimics the highs and lows that a person's pulse dances to and the everchanging moods that ebb and flow when trying to make that ONE decision – should you stay or just go? 
If 'a picture is worth a thousand words,' then the fifth track off of "These Little Words" is worth a thousand listens as it is 100% Southern Music ear-candy with the twang of the guitar, the steel sound of each chord, the bent strings effect, and the molasses melting vocals of Katie.  In addition to pure Country, this track also lends itself to the Rural Folk Music sub-genre with the lyrics speaking on terms of the everyday life of rural people and the town that easily is their BIG CITY.  The nostalgic lyric tells the story of a person leaving a place and longing to return even though they haven't even really left yet.  It plays so beautifully.  "Your Song (Out of My Head)" was written perfectly and it developed while Katie was in Nashville this year.  The higher key Katie sings in on this track just takes it over the top – it literally takes you there, on her journey.   I remember one of the first tweets Katie wrote when reaching Nashville on May 24th, it had a picture of Kentucky Fried Chicken (KFC) attached to it, and she tweeted "When you're trying to focus on other things but keep being reminded... #nashvillegig #musicianlife #wigantonashville #thankskfc" and I replied "Saw this early. Now, I'm leaving my office & I looked at it again. The #Colonel is calling! @katieellenmusic hve an awesome gig N #Nashville."  I was so proud of this hardworking lady as she handled her business and documented that musical journey.  Katie stated that while in Nashville she finally was able to play her own set, and the city, the people, and the music stayed in her head.  It's like it was surreal.  That tweet on May 24th was the start of a memorable experience in Nashville, Tennessee that grew into a grass roots-like song that literally takes you on the road with Katie.  This well-crafted, real-world, tender song would make B.B. King proud, as this song encompasses what this Music Row legend's Blues music always contain, it tells a story that is relatable to all – it's that simple!  I could not get this tune out of my head! 
The concluding song is a bonus track called "Half Way There (Piano Version)."  On this relaxed alternative to the previous track with the same title, Katie chooses to slow down the pace – it's just the piano and her vocals.  This rendition carried more emotion and made you think – there was more depth.  And the harmonies are splendid and almost angelic.  A nice mellow way to close the EP. 
John Kettle did an amazing job in producing, engineering, and recording this lovely piece of work.  From the blank canvas, to the completed mixed audio, Kettle was able to capture the very essence of Katie.  From the well-balanced EQs, to the mixing of vocals, to blending the music, he connected all of the dots.  He captured that moment in time and gave it to us to hear.  Amazing production on this EP! 
As a Country Music artist, Katie's presence is sheer country, but her roots go deeper than just Country, on this EP you will hear elements of Blues, Rock, Folk, and Soul which helps diversify her audience beyond the typical country music fans.  
She's authentic, artistic, and a legend in the making!  So glad to know her. 
Like Katie's EP demonstrates, it is the little things in life that makes the biggest impacts.  
We will hear more from Katie, and I cannot wait! 
This wonderful EP is set to release September 1, 2017.  In the meantime, go to www.katieellenmusic.com to keep in contact with the artist.