"It's just another manic Monday" as The Bangles sang in the chorus of their 1980s hit, and yes for you it is Monday morning and you have your game face on.  You got this – you always check your social media pages to see what's new; you converse with your small circle of best friends every weekend to see what the latest word on the street locally is, and you have skimmed the pages of Cosmo over the weekend to see what to wear that is in fashion besides your comfy Nikes. 
So you jump into your ride and per the usual, pull up to your favorite coffee shop to prepare for the work day ahead – the stronger the java the better, right? 
While you are standing in line deciding on whether you should purchase your typical cup of Joe or go with the newest caffeine kicker, you hear someone utter the words, "oh, I never have to worry about not being on trend, because I always know what's trending and what's popular by using my search engine's search statistic."  Now, you immediately hone in on that conversation, so much so, that you kind of wane out of line because you are interested in staying relevant.  You immediately wonder "what's that - let me lean-in inconspicuously to find out more."  Sounds familiar? 
Well, we all know that search engines are nothing new, and we know the majority of their names: 
Bing

Duck Duck Go (I know, that is new to me too)

Safari

Explorer

AOL

Yahoo!

Google
What's fascinating about some of these search engines is that they feature some type of statistic function – Google is at the top of the list.  And get this; even social media platforms like Twitter and Facebook have joined in on the statistical train providing statistic gauges for their members.  We are going to focus on Google. 
Google Search Statistics 
Really, there is not a tool called "Google Search Statistics," that's just a short way in relating the manner in which Google processes search requests every second, on average, per day, worldwide.  But the two popularly used Google search statistic tools are Google Trends and Google Insight. 
Google Trends 
Google Trends is a tool of the Google search engine that gives you a quick look into the Google searches that are getting the most traffic overall (updated hourly).  It helps you to gain an understanding of the hottest trending topics as well as those developing over time.  Simply type in https://trends.google.com/trends into your browser and you will come to a page like this: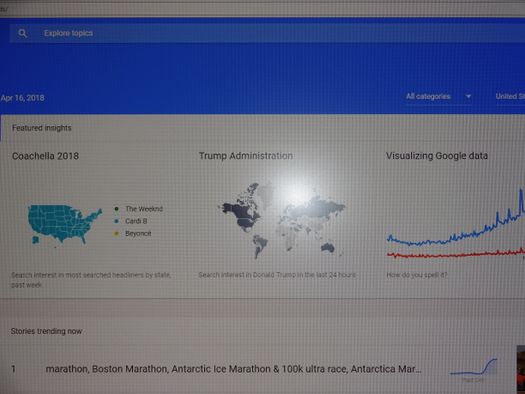 You see current stories trending numerically as to what is trending now locally and nationally – everything from Coachella 2018 onto the Trump administration.  
You can use the Full Screen view, search through categories, and even REFRESH it to keep up to the minute with trending results. 
If there is something you are considering adding to your webpage homepage to stay relevant, or you simply are curious for your own personal tastes, simply type in a keyword pertaining to your idea to see if its trending or use its features to narrow your search.  
Google Insights 
Google Insights is a feature on the same page as Google Trends, but it allows for a more customized search to broaden your scope by country, city, search volume, as well as seasonal search trends.  It is easy to see who is looking for what and where, as well as searching for competing sites/brands, and much more.  This is great for investment firms and fashion designers – two markets that deal with international and national trends daily to cater to their audience.  Forbes listed Google Insights as one of the tools to consider before starting a business (https://www.forbes.com/sites/kenkrogue/2012/06/21/3-google-tools-to-check-before-starting-a-business/2/#1f2e0716e370). 
So, if you are interested in the "NOW" to be counted amongst the cool kids, or you're into becoming the new voice in fashion, this is the way to go. 
In addition, if you are a writer of sports, fashion, music, or news, researching what people are probing for online is a great way to keep up with popular buzz and Google Trends is your match.  
Moreover, if you are in the business of content marketing or simply commerce, knowing what people are looking within a certain market or target area (geographically, etc.) gives you an idea as to how to narrow your focus and Google Insights is right up your alley. 
Since Google is still one of the most popularly used search engines in the world, why not try Google's search statistic trend-worthy tools "Google Trends" and "Google Insights" and stay in the NOW.