The Wild Kat of Alt. Pop shows how Creativity is best Unchained
When asked about her sophomore EP Made in the 90s (released 11/10th) Kat Saul simply writes "it's me reflecting on who I am and what I've been through as I transition into adult life so that I can process how the past has made me who I am...because that's what art is right?"  Classically, this Nashville-born, Los Angeles-based Pop singer/songwriter has art down to a science as she creates music that is aesthetically practical resonating with fans of Pop, Soul, Grunge, and Hip Hop.  I had the opportunity to interview this wild Kat and ask the questions that the fans are dying to know.  In this interview, you will find out what makes her creativity so uncaged and nonconforming, the reason behind the success of her debut EP From Unit 408, and what inspired Kat Saul to write Made in the 90s. 
What first got you into music?
I've been musical ever since I was a little kid. I started taking piano lessons and singing in the church choir when I was in kindergarten, and by middle school I was stealing my brother's guitar and learning how to play. I always knew I wanted to perform. I became interested in songwriting when I was in 7th grade and carpooling to school with a girl whose Dad was an A&R. During the car rides he'd play demos that publishers had pitched for his artists. I realized I wanted to be the one making up songs for his CDs and pretty quickly became obsessed with songwriting.
WOW - that is interesting. 
I call you Wild Kat (I hope you do not mind, let me know if you do) because you are nonconforming.  Your creativity ceases to be harnessed which is a positive thing in the current music industry.  Tell us, what makes you remain UNCAGED when it comes to your image, lyrics, and genre of choice?
Thank you! What a compliment! The second I started listening to my own gut, that's when I tapped into what worked for me. I hate how artists can be so one dimensional like "I AM the color pink and will never associate with another color." Humans are freaking rainbows… we can be so many different colors, sounds, styles, whatever. I make music that sounds the way I feel. I say what I want to say, I dress how I feel like dressing. Period. People ask me about my branding a lot and, the thing is, it's not branding. If I seem uncaged, it's because I'm being real and real humans are complex. 
Perfectly put - period!  That is the element of your music that is so intriguing - that element of realness that so often gets lost in the mix with many artists. 
It is said that your music makes listeners want to "dance, head-bang, and cry – and sometimes all at once."  Was your direction in music, when it comes to writing and executing the music, always paradoxical?
Inherently, yes! I was a pop/rock kid growing up in the country music capital. I wasn't trying to be a paradox, I just grew up around a lot of different influences. It was the same socially… I was a cheerleader who was also in a rock band. I never really knew who I was until I decided it was okay not to know! Maybe who I am is just a quirky misfit! Whether I want it to or not, it comes out in the music.  
From Unit 408 was very embraceable to many lovers of multiple genres of music – for instance, "Nick Miller" had a smooth Hip Hop / Pop style and your lyrical style had a unique flow.  Will Made in the 90s carry the same type of eclectic tracklist? 
'Made in the 90s' can be expected to draw from some of those same eclectic genres, but instead of it varying from track to track, I've blended my influences into a big pop smoothie. I love my influences and wanted to dial in a little closer on how I can incorporate them all while still sounding cohesive.  
Cool.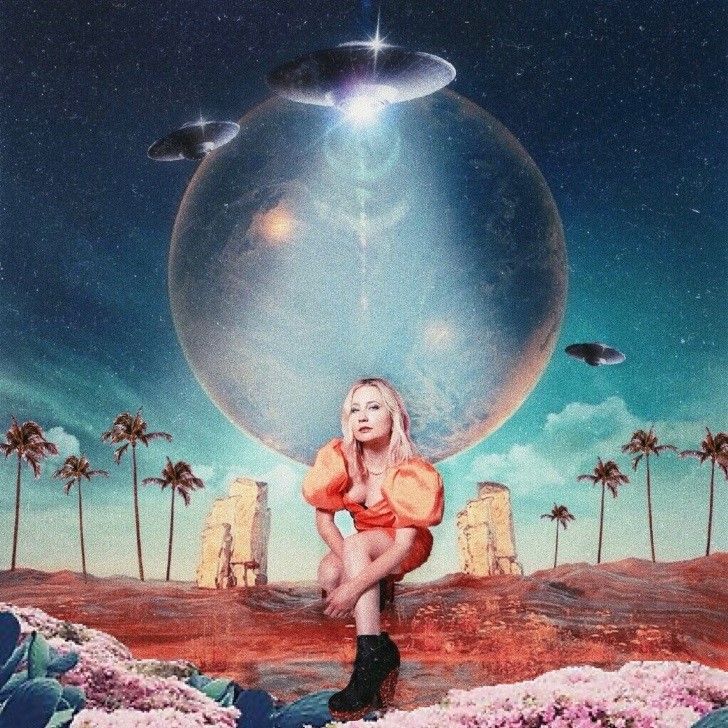 So, what do you think was the driving component in From Unit 408 being so successful? 
With the tremulous political and social climate, I think people were ready for something fun and different. People don't want to be sad anymore.  
So, true - I am ready for this! 
What inspired you to release Made in the 90s? 
I wanted to release something that felt like me. I wanted to start telling my story. Not someone else's censored version of what "me" is.  
I like that statement "someone else's "censored-version," because that is what the music industry creates - a censor-version of an artist. 
I feel that Made in the 90s is a reflective collection of music.  What is the running theme for Made in the 90s?  Please, expound. 
This EP is the sounds of my childhood — it's cheerleading style dance drops and guitar power chords. It's dreamy pop synths and Nashville storytelling. It's me looking back on who I was and how it's made me the person I am now. We are a sum of our experiences.  
Okay, so let's dig into some of this awesome music - what is the story behind: "Monsters," "Cloud 9," and "X2?"
"Monsters" is about my anxiety and depression. I had just moved to LA and we wrote the song 2 days before the quarantine order hit. 
WOW! 
I was scared, and more alone than ever. I had the idea for this song almost 2 years ago, but it never felt as real as it did this past Spring.  
"Cloud 9" started as an iPhone recording of me sitting in the Green Hills YMCA parking lot and recording the weather. Somehow it sounded the way I felt. I wanted to make a song around it. It's a love song to a boy with whom I have a complicated relationship as well as a love song to my mental health. It's me saying "It's gonna be okay". Most of my romantic relationships are impacted by my mental health, so for me, the two are closely interlaced.  
"X2' is about being tired of being sad. In this song I realize I need to take care of my mental health, my body, cut back on substance use, and pick myself back up after a breakup. This is actually the second song I wrote for the EP after "I Love To Hate You," which was the first. Both songs are about the same boy and show the different stages of grief I was in. I didn't know at the time I'd be putting together a project.
With your music touching on so many personal elements, it is really cathartic in its delivery which will make it crossover into so many different hearts - cool!  
I've read that production-wise, when it comes to instrumentation, FX, etc., you chose to blend electro-pop melodies with 90s alt-rock.  This is a great combo as it keeps the music fresh, relevant, and independent as each track can stand alone.  Are you always involved in the production process?
Now, yes. I used to be a bit insecure about voicing my production ideas since I have more experience as a songwriter than in the producer's seat. This project was definitely an awakening for me and I felt more comfortable bringing in my own sounds and samples. I've always heard production ideas in my head. I'm at a place now where I realize the music isn't going to sound like me unless I'm 100% vocal with those ideas. I can't imagine not being a part of that process now. 
You've collaborated with some industry heavyweights; anyone you have not worked with that you have on your list? 
Oh gosh, there are so many! I'd specifically like to manifest collaborations with Jack Antonoff, Sir Sly, and Ali Tamposi.  
Great choices! 
If anything, what would you like to change in the music industry? 
I'd like to see more equality. The industry is still heavily male dominated yet some of the most talented people I've ever worked with are women.  
Last question, when did you last give yourself permission to let go? 
In general, it's really hard for me to let myself go. I have horrible anxiety. I'd say the Saturday, a week before Halloween, when I unplugged and spent time with family and the people I cared about. I dropped my expectations for myself and got reconnected with who I am at my core and what my values are. I let myself enjoy life. It was a challenge to not be glued to the phone or sending emails, but it was great.  
Thank you Kat 😊
Rarely do music journalists get the opportunity today to conversate with an artist who is mindful, reflective, and transparent like Kat Saul.  Saul literally is redefining what it means to be an "artist" by illustrating through her image and music how Creativity is best Unchained.  Her music is already capturing hearts, breaking records, and cementing itself as a self-defining element in reshaping the music industry making HERstory part of the continual music dialogue.  The minds, hearts, and ears of her fans are in for a real treat.  Wild Kat is just sharpening her nails, and her next step is going to be an interesting jump that she will clear effortlessly! 
Website | Facebook |  Instagram | Twitter 
Photo credit:  Matt Blum