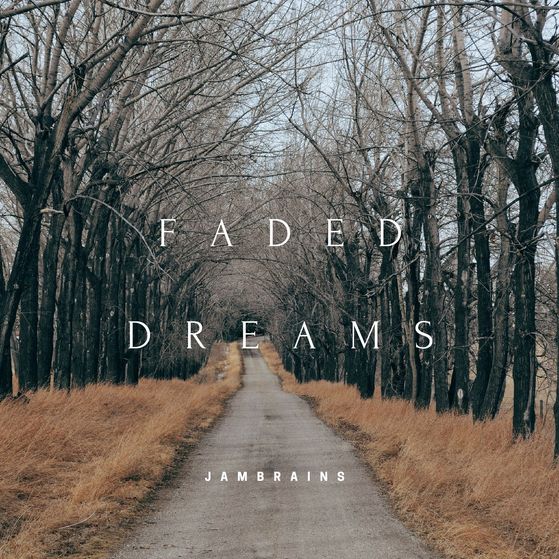 Right now, it is November, the month where Autumn is in its prime and Winter is right around the corner.  Right now, in the USA and the UK, we are seeing faded leaves, crisper daybreaks, and cooler twilights.  And since autumn is the season that invites change, I thought it would be a splendid time to introduce my friend Jambrains' newest EP "Faded Dreams" as his musical concept coincides with what we all are experiencing right now – transitions, change, starting anew. 
I have had the honor in reviewing Jambrains (Johan Alms) before and he never ceases to amaze me and my readers.  The Swedish multi-instrumentalist and songwriter always infuses his Folk music with powerful guitars, thought-provoking soundscapes, real-life lyrics, and strong melodies. 
"Faded Dreams" was released August 31st of this year and is a Rock Folk EP that includes five tracks: 
Without You

Fade -

4th of July

I Can Change

Others 
Each track creatively houses the theme of change and inspires its listeners to grasp and accept those defining moments in life along with the transformation. 
"Without You" starts the EP off on a high note with electric guitars, ukuleles, accordion, and a nice bass bottom.  It doesn't matter if you are in India, England, or the ATL, everyone can relate to this track that impressively evoke youthful memories, the lyrics sing:  I can still recall the playground by the Wal-Mart parking lot / a browned-eyed girl with freckles / hand in mine in our secret spot / we used to share a Mars bar / when it was all we could afford / this town was all we knew about / the world not yet explored / now the ships are sailing as the tide is turning but I just can not leave not without you / without you / a Greyhound ticket in my back pocket but I just can not leave not without you / without you.  The practical lyrics are so rich and vivid.  This Rock Folk track follows in the tradition of artists like Bruce Springsteen and Billie Joel and holds a nice American Heartland Rock style of music – the working man's music, and it is great!
And every time I hear the first chords of the second track, "Fade," I just melt.  It doesn't matter where I am at the moment, I just STOP.  Seriously, this song is so memorable with its soul-pacifying melodies and meditating lyrics. 
"Fade" was released as a single in early 2018 and received much recognition.  It fulfills the EP's demonstrative structure so well in keeping with the theme of change.  Taking an excerpt from my Klef Notes' review of Jambrains' "Life, Love & Lies" EP, "Fade is a lyrical letter depicting how fairytale dreams and aspirations can fade . . . if they are not played out to their fullest colors.  The subtle modulation in the verses and the melodic changes in this cut set your mind to thinking of life and its decisions whether good or bad and how to piece together the remaining parts before they turn to gray." 
The quiet vocals, soft piano chords, mellow percussions just vibing, and the finger-picked guitar is very introspective on "Fade," and it's very much 'unplugged' in its overall production and it works, works, works.  Jambrains sings:  she said, get us out of here, the fireworks have started and I can't stand another year let's burn all of the bridges that connect us to the past / so it won't come back to haunt us until, at last we slowly fade to gray / we slowly fade to gray / to gray / their dreams were sold to them on the glossy pages of multi-color lifestyle magazines / but our dreams lie beyond the city's border where life is unpredictable and cannot be foreseen.  And, that guitar solo at the two minutes 32 seconds mark still tingles the spine.  
I have been living with this track since my first penning the original review of "Life, Love & Lies," and I can still say that this track is so ah-mazing.  It is simply beautiful.  Life fades, but this song does not grow old.  
A rawer vocal is displayed on "4th of July" and plays well with the feathery piano chord that stirs the foundation of the third track.    Jambrains' quiet raspy 2nd tenor is so balanced and stays a bit behind the music but justly so, as this anthemic mid-temp track deserves the music to be in your face.  A nice addition to the track is the harmony notes that build as the bridge introduces itself with a sweet acoustic guitar.  Massive guitars scale back, and a highlighted acoustic pushes the bar, soon a cymbal closes the gap as a subtle piano chord closes this celebratory song.
The track that features the most elements of pure Pop would be "I Can Change" with its length (3:23), mainstream vocal melody, electric guitar chord progressions, and the catchy hook that contrasts rhythmically with the melody of the verses.  Moreover, this track provides a wonderful backdrop to the premise of CHANGE within the entire EP with its title.  Lyrically, Jambrains explains how even humans have to change within our lives to be a better person, he sings: I'll try to do less of all the things I do that make you sad / and I do understand that being with me sometimes drives you mad / there's still time to change direction / still time to change my ways / still time to be forgivenand still time to make amends / I can change / I'll do it just for you / I can change / I will push on through / I can change my ways / I'll bend, I'll shaketo be a better man / yes I can change.  With a witty Pop Folk musical direction, this track splendidly shows how it is not always the weather, seasons, days, nights, universal elements, life or death that exhibits change, no, sometimes the thing that requires the most change in a human's life is their own behavior or personality. 
And last, but certainly not the least, the final track brings home the Rock with its massive instrumental sound and amplified guitar distortion!  The shortest track in the collection, "Others" opens with a spine-tingling guitar riff that sleekly introduces Jambrains' rugged lead and accompanying hi-hats, bass drum, and ukuleles.  "Others" closes with lyrics that present the word "dreams" which superbly connects the dots of the entire music collection.  Jambrains' lyrics are:  Every day like every other / passing one by one by one / you want to change our future / but the past can't be undone / so we dream of others for the lack of better dreams/ so we dream of others while we're stuck in our routines / so we dream of others in a lonely double bed / so we dream of others and wish each other dead.  Acting as a floating metaphor (a wonderful songwriting technique by the way), this hook highlights a human's need for change, and in this case, it is by way of dreams – an escape from the monotonous affairs of daily life.
"Faded Dreams" is a great piece of music.  The title alone suggests change and metaphorically illustrates how dreams fade when you awaken, or shall we say, how life changes when we finally realize things more clearly and step into reality.  Each track alludes to change being an inevitable, yet integral, part of living, and how acceptance of change (in any way, shape, or form) assists in growth.  We see this as the sun sets when we no longer need it and with our scars (whether literal or physical) and how they vanish when we allow ourselves to heal. 
Jambrains really is skilled when it comes to storytelling, composing the songs, and executing its production.  Every word and note are well thought-out and placed together like a jigsaw puzzle.  It is songwriting like this that separates Jambrains from many artists today – the ability to build songs traditionally with storylines, melodies, and instrumentation while staying current with some modern aspects of the industry when it comes to production.  
Unlike some artists today who receive bragging rights for blending genres in music, Jambrains truly does deserve accolades due to his expert treatment of his production skills.  He makes sure to keep a pure dominant genre as the spine of his songs, in this case Folk Music, while implementing elements of other genres to add highlights, texture, or layers within the music.  Never will you listen to a Jambrains' cut and think, "has he switched genres, because his music does not sound the same."  Throughout his musical journey, laid out in his albums, Jambrains' songs all have the ever-present Folk Music core and then you will hear other modern or classic instruments surgically laid within the music – that takes talent.  
So, you have to download or purchase this EP to experience what I call the "Jambrains' Effect" – the feeling true music connoisseurs get when they listen to music and are hypnotically drawn in by the music and the message.  Try it out and see if you are not pulled through the shades of black, white, and gray until you see technicolor.  
twitter:  https://twitter.com/Jambrains