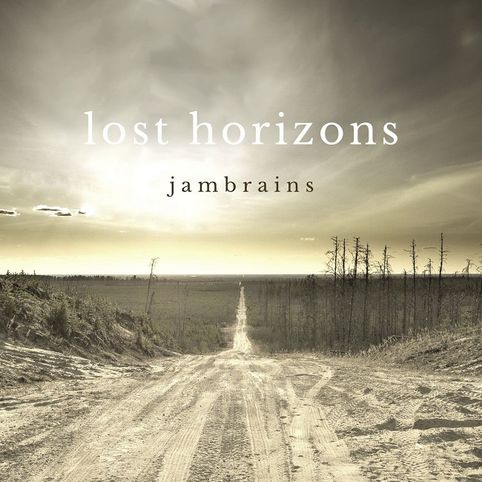 Reintroducing an artist to readers and fans is one of the best things about being a Music Journalist because it shows how music is ever-evolving.  This time around it's the music of Jambrains.  
To reiterate, Jambrains is the solo project of Swedish multi-instrumentalist and songwriter Johan Alm.  I will be reviewing the newest release from Jambrains called Lost Horizons.  
Lost Horizons is a collection of six songs that touch on life's most concrete emotions such as misery, optimism, and loss: 
Again and Again

Whiskey on the Hurt

The Mirror of Her Dreams

Time to Say Goodbye

Five Days

I Believed
This is my interpretation of Lost Horizons. 
"Again and Again" is an up-tempo, dual-vocal, track that opens the album and portrays a man who is wearing his heart on his sleeve.  Loaded with guitars, this song is about living without regrets all for the sake of love, and it features instrumentation the truly pulls at one's heartstrings similar to the music of Bruce Springsteen where the melodic emotions of each instrument drives the direction of the track – for example, the happy piano chords married to the twangy guitar.  The lyrics sing:  you crossed the line that kept us apart / I drew it there to protect my heart but you reached out and pulled me close / first there was nothing / then came a spark that started a roaring fire way out of control / I threw a dime in the wishing well / send me to heaven or send me to hell / either way I would do it all over again / and again / and again / and again.  This topic is not the norm within society today or Popular music, but it is such a breath of fresh air to listen to lyrics that spell out STOIC. 
There's a psychological treatment placed on the premise of the second song "Whiskey on the Hurt" as the storyline is about numbing the pain of mental anguish resulting from pressures of existing with a broken heart.  The lyrics illustrate this observation when they sing:  see me standing in the rain / head thrown back to wash the pain from eyes / I've emptied of my tears from silent screams that no one hears / for some peace of mind I would sell my soul / for some peace of mind to forget it all / for some peace of mind / as I wait for sleep to fall I pour whiskey on the hurt.  On this track, Jambrains utilizes mellow instrumentation with his signature guitar being the focal instrument establishing the core melody.  Jambrains' soft vocals on the leads merging into a rough texture on the intro of the choruses, and even still going back to soft when exiting the chorus, delivers a rich emotional effect.  The song is constructed using verse, chorus, verse, chorus, verse, chorus formation which helps the listener grasp a fuller meaning of the topic as the song stays constant in its rhythm and melody. 
"The Mirror of Her Dreams" is a Folk-Rock ballad about reality versus hopes.  The female protagonist is haunted daily with what she sees as realistic failures; therefore, she lives in her dreams and visits her real life.  Lyrically, Jambrains illustrates this premise when he sings:  She dragged herself from bed like so many mornings / worries buzzing round her head / the golden days behind herit's a downhill ride from here / the weight of disappointmentsgets heavier each year.  An additional lyric that refers to how when she dreams, her mind is like a kaleidoscope filled with mirrors that display her hopes, sings:  The mirror of her dreams shows a knight come riding through / the mirror of her dreams allows a perfect childhood view / the mirror of her dreams and the promises it holds / The mirror of her dreams lets her fairytale unfold.  It was fabulous how Jambrains shows the duality of existence by way of dreams and reality in four minutes and seven seconds. 
And, when does one place a period at the end of a relationship thus signaling that it is time to move on?  Well according to Jambrains' fourth track, "Time to Say Goodbye," the first warning sign is when you get lost along the way while traveling on the road of love.  
Jambrains' lyrics on "Time to Say Goodbye" so adamantly sing, "there's a fault in our stars / it drew us close and tore us apart / time to say goodbye / we got lost on the way."  The bridge to the track perfectly gives the listeners a backstory into the lover's lives together and the harsh reality that it is over when it sings:  the broken china on the floor / the only witness to the fight the night before / the slamming of the door marks the end of the truce of this never ending war.  And when hope is confused for love, then that is the time to place the PERIOD at the end and move on, Jambrains sing, "disguised as love / hope lead us astray / time to say goodbye."  Jambrains takes a lower register with his voice on this track and it complements that moody music.  "Time to Say Goodbye" features a blazing guitar solo in its bridge and a smoking outro that is chockfull of guitars competing for the spotlight.  This song is emotionally direct with guitars and a threading melodic core of descending modulation that's mellow and quite dark in its mood.  
"Five Days" shows how when one person within a relationship is battling feelings of negativity, it becomes a daily battle that both partners must fight.  Jambrains demonstrates this fact by writing lyrics that showcases that dual mental state which easily causes the protagonist of the song to change into an antagonist.  Jambrains sing:  I can't drag myself from my bed / it's where I hide from my demons when they get inside my head / but you need to see and I need to feel / it's a cycle I go through but in the end I always heal.  The song transitions from a low-subdued Folk track into a medium paced Folk-Rock number with some Country highlights.  The topic of preoccupation of mind over matters of negativity is highlighted with temperate instrumentation.  Gospel piano chords help to showcase the ambiguity of the character's mental state, while the Doo-wop command to the beat aids the listener in hearing tempo that resembles a love trying to be saved.  Wonderful juxtaposition of slow-paced vocals and quick subtle changes in the music.  An honest, emotional, song.
The final track, "I Believed" has equal measures of vulnerability and solidity.  This is a musical narrative about living your best life so there are no regrets.  In a nutshell, the lyrics explain how you will stunt your own potential and end up with regrets if you hold back from speaking your truth, hide your feelings, follow the leader, or even try to escape reality.  The moody piano adds texture and richness, and Jambrains' signature guitar riffs layer emotion throughout the track.  A great asset of this track is the writing.  Jambrains uses metaphors like "road," "a one way street ahead and a wall behind you," and "an empty page" to show frailty and that duality of optimism and pessimism.  And, one of the most dramatic and powerful lyrical lines of this collection of music is when Jambrians sing:  I tried so hard to walk the line between my truth and yours / lied when honesty would be misunderstood.  A line about facing the hardest of truths, and owning the slightest of lies, never sound so good.
Jambrains always shoot for the highest level when it comes to delivering a collection of music to his fans, but this time, he reaches a little further and creates something a bit out of the box from his previous music and it is great!  What Jambrains has fashioned with Lost Horizons is a well-planned next strategy to showcase what is coming next from his mind.  The unhurried appeal of the music quickly captivates and offers a hiatus to most unnecessary stress.  In addition, the juxtaposition of Folk music marrying Rock, Jazz, and some Psychedelic instrumentation offers a broader range.  The fluid, well-constructed music of Lost Horizons helps to illustrate the maturity of the artist and the flexibility of his talents.   
Furthermore, the theme of duality pretty much follows through the entire album signifying how life's most concrete emotions are multifaceted.  And that is why Lost Horizons easily becomes a thesis to living – it's like you're listening to memories and forethoughts at the same time!
This new direction speaks volumes as to Jambrains' artistic quality and scope of his musicianship.  Being able to evolve as an artist while staying true to your basecamp is tantamount in knowing and producing authentic music that resonates to all listeners.