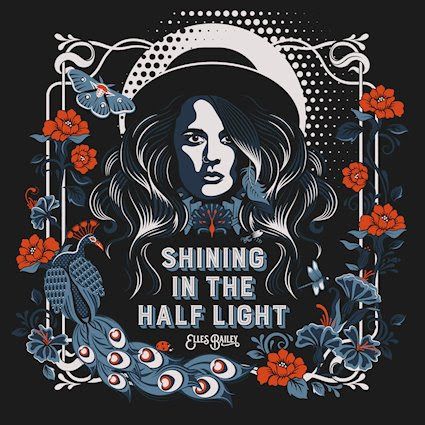 Many journalists, after hearing the music of different artist, like to say, "they are the next BLANK."  The artist that I am about to interview is not the next anything; she's the FIRST one, the ONLY – she's what others will mold their artists after to try to become what she naturally is – a force to be reckoned with.  She's the Bristol-based singer, songwriter and bandleader, who has surgically sharp determination, laser focused talent, and unapologetic charisma and grit.  Like a phoenix, she's fought some real battles and came out of the ashes holding onto the positives that breathed strength in what we've come to love.  She's Elles Bailey.  There is no one like her!    Thus far, her resume includes residences in the Bristol music scene, winning numerous awards, record-breaking tours, and well-received Eps like:  "Who I Am To Me," "Wildfire," and "Road I Call Home."  Her latest album is "Shining in the Half Light" – she's known as the leading UK artist in her field.  Ladies and gentle, welcome, Elles Bailey. 
(KiKi) Hello Elles – can I call you simply Elles? 
(Elles) You sure can 
Awesome!! 
So honored to interview you for Klef Notes my indie music blog!! 
Thanks for having me 
You are from Bristol UK, right? 
Yep born and bred ! Very proud of my Brissle Roots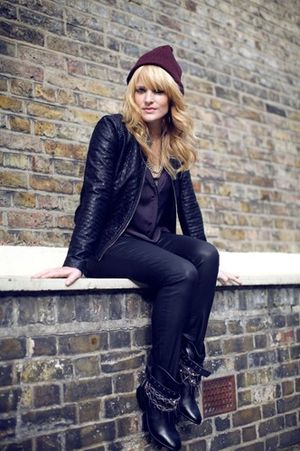 What's the story behind the artist? what made you want to break out into the music industry, I mean, were you rooted in music? 
I don't ever remember not having music in my life. I was surrounded by music from such a young age, my dad is a bass player, my mum a singer and my brother a guitarist! I'm just the one that made my career in music. 
Music in the genes.  So, when would you say that you came into your own in music? 
I think it took me a long time to find my own voice and identity even though I have been doing music my whole life.  I think I was 28 when I truly started writing what I wanted to write. 
Elles, it is no secret – your voice is FIRE!  I've read that that magnetic voice that you have is the result of a childhood Pneumonia. 
Yep that is right, being on a ventilator for 17 days scarred my vocal chords and changed the sound of my voice.
And, were you always so multifaceted and cool in your vocal execution?  
I've always had a voice but it definitely changed a lot over the years! I think I have it under control now though ;) 
What is your approach to making music and creating music?  How do you come up with your storylines? 
I try and write as honest as possible and I am mostly now autobiographical but I do like a good storyline now and then that has nothing to do with my life. I could be inspired by a story I read in the papers or by something going on in the world. There is inspiration all around us - but sometimes you have to look. 
That is so true; every artist should try a wider lens when it comes to looking for inspiration around them. 
Elles, you are too powerful to roost in one genre, what's your favorite genre and what genre would you like to try? 
I don't really have a favorite but I do listen to alot of Americana….what would I like to try …. gosh I dunno really… maybe one day I turn my hand to rapping….. but I think people may just tell me to not quit the day job!! LOL 
I think you would be smokin in rap; I cannot wait to see you do so. 
Switching gears, a bit.  Today, it is obvious the music industry is not the way it used to be a decade ago – singles are released instead of full albums, streaming is the method to release music compared to physical CDs, and with the Pandemic, basically everything is virtual.  So, how do you remain adaptable in an ever-changing industry? 
I am lucky to be in genres where there is still alot of value in the CD, vinyl and the album as a whole but I also love the music business and I get stuck in to learning the best ways to release music in this day and age. Being an indie artist means that I am flexible too, I can make and break the rules, make the mistakes and learn from them! I've made many mistakes that's for sure!  
Mistakes – haven't we all made them?  But, yes, it's a good thing to learn from them and be flexible in your craft. 
Elles, have you come across any biases or stereotypes in the music industry? 
Not directly or personally however they are there and it's really important to talk about them and to champion diversity and inclusivity with the music. The more colorful the threads - the more beautiful the tapestry. 
Wow – I love that line.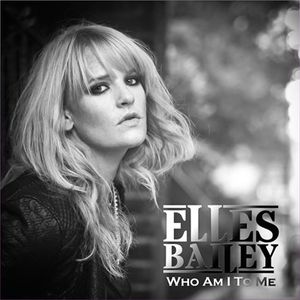 In 2015 you released "Who I AM To Me," what's the backstory on that EP? 
That was my first band EP… I had been working with Producer Brian Banks for a few years, making demos and trying to find my voice and in late 2013 I finally put a band together to start playing shows out live. This was the first offering really, the start of the story. It's been an adventure for sure. 
And, "Road I Call Home" showcased your musical maturity, perspective and soulfulness, what about "Wildfire?" 
Wildfire is my debut album. You can have as long as you like to make a debut album and mine took about 5 years to make. I got to go to Nashville to record it which was very surreal experience but It was making Wildfire that changed alot of things for me and put me on the path that I am on now. 
I know you enjoyed Nashville.  Restating what you said earlier, and I quote:  The more colorful the threads - the more beautiful the tapestry. That's Nashville when it comes to the music scene. 
Now, with "Shining in the Half Light"- that's kind of a cathartic album that shines a light on society's uncertainty and its ability to adapt.  What I love about the threading theme of this album, is that most songs illustrate how it's okay to just BE – imperfections and all.  
Thank You- that's exactly what I wanted to portray in this record. 
So, what pushed you to put pen to paper and craft such wonderful, memorable, relatable songs? 
I've always just wanted to write good honest music. If I'm honest with myself - which is often the hardest part, then I think that usually when you write the most relatable songs. I am just glad you are enjoying them :) 
For sure! 
Now, let's go through the list of amazing singles – if you do not mind, can you give me some backstory on the song's theme and how you came up with the scene for the video? 
It's written about those in power who didn't see the value in the arts during lockdowns when it was the arts that were reaching into the isolation and helping people feel connected. 
Great concept, Elles. 
'Sunshine City' (blues, roots, americana) foot-tapping - that hook stayed with me so long after I first heard it "Whoo hoo…" 
This is my let your hair down, put on your high heels, have one to many with great friends and go dancing! Something I sure missed in lockdowns and miss a little now I have a little one… however the idea of a hangover with the pitter patter of tiny feet in the morning fills me with dread! So instead we just dance to sunshine city in his playroom - its defo his fave EB tune! 
When coming up with the idea for this video i just wanted to have fun with my friends which is exactly what we did! Tearing up Bristol in the late summer and filming it- it was rad! 
Well, what you wanted to showcase, definitely resonated on the camera.  It is good to see this nowadays. 
'The Game' 
Thats about my relationship with the music industry, its allota fun to play live . The video to make was epic too - we filmed it all in a day in Manchester with Northern Cowboys film (they also starred in it) and its tongue in cheek … i love it! Showing off my hustling skills haha! 
Hey, it's all about the hustle.  Northern Cowboys are awesome. 
'Riding out the Storm' (slide guitar) – filled with visual lyrics (that stone in your shoe illustrating that pain that is finally gone)  
I filmed this with Kris Barras and we wanted to make the video pop, standout, bright colours, cool scenes, moody vibes at times and this letting loose for the ending. He even built a rain machine and yes - it was freezing in January at night when we filmed it and I got soaked! 
So sorry you had to be in the cold rain, but Elles, that video does POP!  You and Barras nailed it. 
I read that you gave birth to your first child this year.  Congrats!  I also read that tracking was completed just weeks before you gave birth.  I read that you sat in the hospital waiting room listening to mixes on the big day! 
That sure is correct - I just knew I had to get as much done before Jasper was born! 
Wow!  That's just a perfect illustration of the drive you have as an artist.  
So, what artists do you listen to today? 
Well today I have listened to John Lennon & Yoko Ono, Larkin Poe, Katey Brooks, Phoebe Bridgers and Paul Cauthen. 
Lennon and Ono – good pick. 
What sets you apart from your competitors? 
I don't see music as competition or other artists as competitors… we are all just doing our thing, doing our best to spread love in this strange sad world and I find that hugely inspiring. In fact thats what inspired the album title - all of those artists who reached out to the lonely and isolated in lockdowns, poor internet, no fancy lighting, warts and all, and connected! Cheers to those who Shined in the half light! 
Understood.  I agree. 
Have you ever seen "Training Day" starring Denzel Washington and Ethan Hawke?  Well, it's a scene where Washington says, "King Kong has nothing on me."  It's very effective, because it illustrates the character's strength, pride, and unapologetic reason to stand by his decisions and actions.  Well, honestly, you have stood by your decisions and actions within this industry we call music and have created some of the best, if not the best, music our ears are hearing to date.  So, I will say, Adele, Tricia Yearwood, have nothing on you, girl – you've got the grit, attitude, and that natural prowess that is not created in a studio – it is innate and real. You can vibe with Blues, Soul, country, and I would go on to say, Hip Hop.  
Oh - i would love to try me some hip pop!! 
As I stated earlier in the interview with your trying out Rap, Elles, you would be amazing at Hip Hop – I'm keeping my eyes, and ears, on what you do next (wink). 
Now, I know you love to perform live, so how did you work through, or basically adapt your music routine, the pandemic? 
I streamed from home alot, then I started streaming from and incredible streaming studio just down the road in Weston Super Mare - the streams from there, so well recorded, then turned into a live covers record called Ain't Nothing But… that basically took me up to Dec 2020 and then I focused all my efforts on making the album before having a baby - Jasper was born in March 2021! I kept busy for sure but I also learned how to stop too… that felt good! 
Aww – Jasper.  Love the name.  Yes, balancing it all is a skill that we all must learn. 
So, how was it working with Dan Weller? 
A dream - he was so easy to work with and totally got my vision for this record! It seemed like a wild card choice as he's known for his work in the hard rock and metal world but we just clicked and thats the most important thing when it comes to working with someone to produce an album. You have to get on with them, trust them, let them challenge you! That's what Dan did - I hope we get to do it again, 
I agree 100% 
What was, or would be, your first stop in the USA? 
It's got to be Nashville - that's my stateside home! 
Cool. 
And, what's next on the table? Songs, shows? 
Festival season - we haven't had a full festival season for a few years now so 2022 is gonna be MEGA! 
I know it will be amazing – if I get to the other side of the pond soon, I will definitely check it out. 
Last question, when did you last give yourself permission to let go? 
The Americana Awards 2022…I had one or two too many and I couldn't hide the hangover!! It was so lovely to be with people again though… I just got excited! 
And you deserve it. 
Thanks, Elles 😊 
Okay, audience, make sure to put your radar on Elles Bailey - such a transparent, authentic, artist that is tattooing her style of making and delivering music onto our hearts, and we LOVE it!