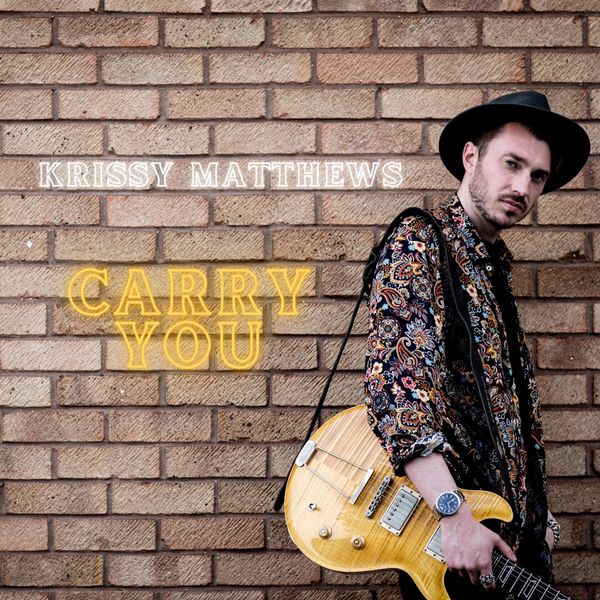 "Carry You" is a Rock song by singer, songwriter, musician, Krissy Matthews, and it is 4 minutes of amazing music – in short, this is not your typical everyday lament.  A single off of his album Pizza Man Blues, the song begins mellow and then builds into a roar.  The storyline speaks about being that "other" for someone you care about when they are in need – the lyrics sing:
There's a sickness that hides and it lurks deep inside, behind shadows that secretly stir. But outside, you are still smiling, sitting on waters that tremble beneath. And then you, follow me, follow me into the dark. Oh I'm not sure, what you're asking for, but if you can't walk, then ill carry you. And I'm not sure, what you're asking for, but if you can't walk then ill carry you.
At the 2:39 mark, there is a guitar solo that elevates the track to a whole other level, it's like BB King and Queen did a song and this solo is the result – smokin!  Then instrumentation and vocals are scaled-back at the 3:05 mark which alludes to what one can expect at an arena concert. 
Yes, laced with blazing guitars, hot percussions, and a vocal that is LIT, this song is righteous.  Yes, from the lyrics, one might think this is just a lament, but do not get it twisted, brilliantly, this song touches on a topic that can be very personal but uses a medium of spectacular music and voices to share it, and it works!  I cannot wait to get my hands on the full album.
Check out Krissy Matthews here and watch the video here!
Krissy Matthews (Guitar)
Felix Dehmel (Drums)
Josh Rigal (Bass)