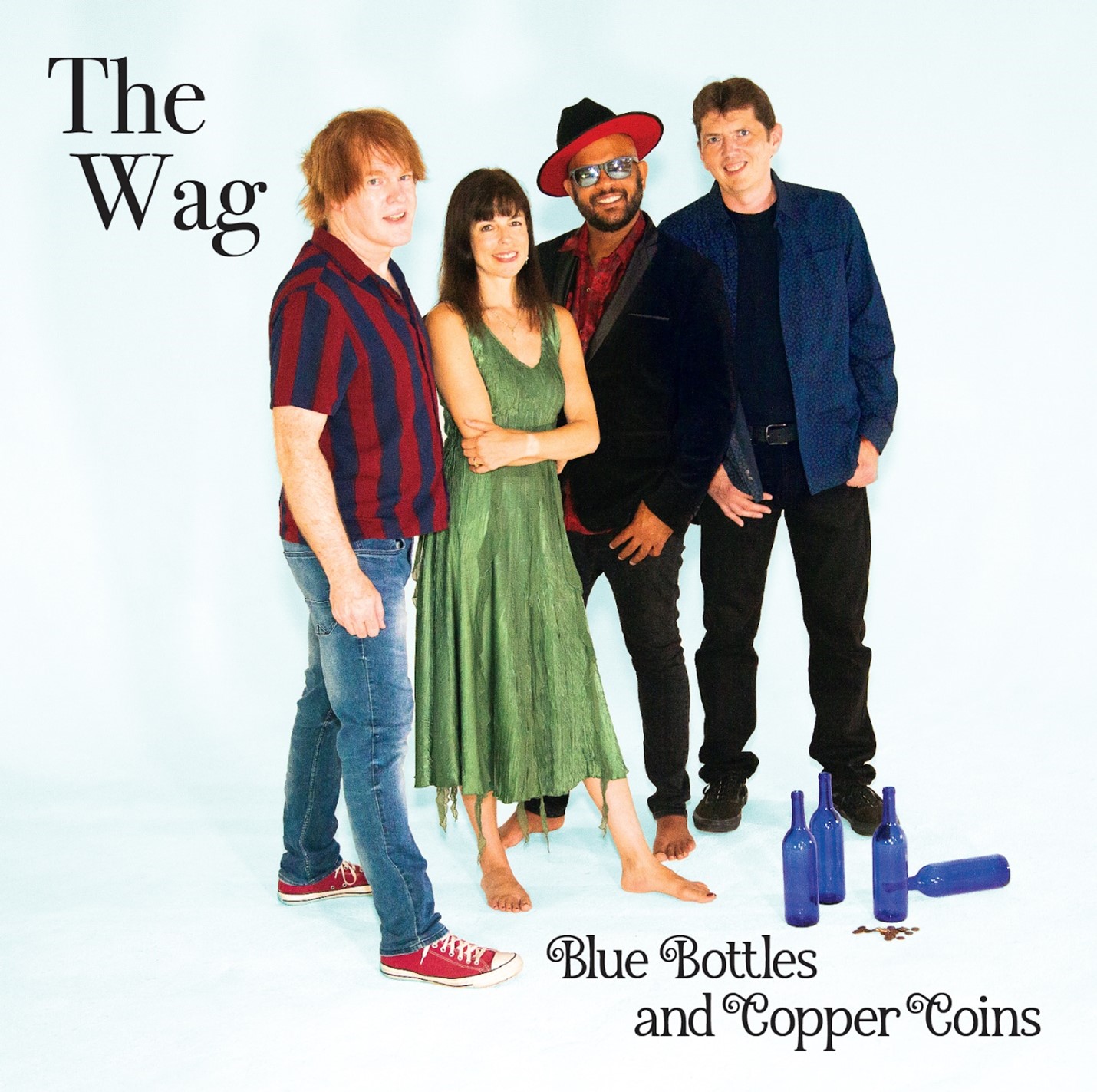 It is award season for music.  When I attend a music award show in person, or from my couch, what I love seeing the most are the bands that have longevity - those bands that have been bent by history's roller coaster called living but who are not easily broken.  Honestly, these bands are few and far between.  In 2019, I introduced my readers to a Pop Rock band from New Jersey USA who follows the mantra of music being about the BAND and the talent.  The Wag is their name - the players are: Brian Ostering – Bass and vocals  / Alicia Van Sant – Keyboards, vocals, percussion, some flute, occasional guitar / Don Lee – Guitar and vocals / Joshua Van Ness – Drums, percussion, guitar and vocals.
I am honored to review their latest album entitled Blue Bottles and Copper Coins.
Blue Bottles and Copper Coins is being released during the band's 25th anniversary which calls attention to the album's theme of resilience and transparency. There are 11 songs that supports the core theme:
Got to Let You Know

Tomorrow Is Waiting

With the Sun on Our Face

Better off That Way

Don't Count Me Out

Fill It With Love

Me and the Ghost

Feeling Fine

Breath by Breath

Sweet Summer Nights

These Boots Are Made for Walkin'
This is my review of the album's highlights.
The album opens with "Got to Let You Know" with Alicia Van Sant at the mic. Such energetic instrumentation that gets you on your feet.  Lyrically, the song is about the narrator so in love that they are not afraid to let the world know, and they welcome the option to discover where this love goes in the future.  The lyrics sing:    
And I've always wondered... yes, I've always wondered how love ignites the air / Now I've fallen under this spell of thunder / Let's both discover that our love is one to shareIt'shard to keep my feet on the ground / And since my head's been high in the clouds, yeah! / We've gotta stop this playin' around / Got to let you know! / It's what we've all been dreaming about / With just a word we'll turn it around, yeah! / I'll be the first to say it aloud / Got to let you know!
The pullback of the music at the pre-chorus enables the audience to hear the passion in the song.  The music is not too in your face but is intentionally outspoken with its arrangement.  In addition, the warm harmonies give the song a heart-flutter type of vibe. The opening track fully supports the theme of being transparent as the song's character is not afraid to let the world know of their affection for another.  
"Tomorrow Is Waiting" features a sexy lead and just brings the funk!  The casual approach to the lyrics makes the song very memorable.  The guitar is also a very present team player on this cut.  The sharing of different ranges in the vocals really opens the track and contributes layers - a great illustration of the band's united texture.  Wonderfully, at the 58 second's mark, the guitar literally talks, and it plays as if it is whispering sweet nothings into the listener's ears at the 3-minute mark.  Definitely a rebellious but light track.  Pop Rock but kind of funky. Awesome hook.  
"With the Sun on Our Face" is the PLUS 1 track of the album - you know, when people say, "this is my plus 1?"  This song Illustrates that love is not dead and that being adventurous has not become outdated.  The lyrics sing:
I couldn't ask for anymore more / There's nothing quite like this I'm sure / Ohh, so take my hand, and kick up some sand / Just you and me, we'll go dip our toes / We'll find all the spots that nobody knows, just incase / With the sun on our face
The acoustic guitars on this track are very inviting.  Adding the practical percussion gives the track that easy-living appeal.  When this track plays, no one will be wondering what is trending on social media - honestly, the listener will remember what it means to be HUMAN.  No avatar needed.  
When it comes to the eighth track of the album, there is a bit of a surprise.  A good surprise!  
Being a Pop Rock band, "Feeling Fine" is wonderfully commercial Rock.  "Feeling Fine" has a storyline about a person who was hurt within a relationship but is transparent enough in their feelings to say that they are feeling fine and resilient enough to move on.  This guitar-driven track features an infectious hook.  The lead's slightly aggressive, unapologetic, prowess truly gives this track LIFE.  This is a driving track that is sure to get attention - very catchy.
When The Wag's listeners finished listening to "Feeling Fine," they will be met with soft, suspicious, percussions that lead into what I think is one of the best tracks on the album - "Breath by Breath."  The lyrics of this track spells out that type of ride or die affection that many aspire to grab in life - they sing: 
You stood atop your anger 'Til it gave way underneath / Your throat was raw from screaming / And you found it hard to breathe / There were tidal waves in your heart / And your world came crashing down / It was early in the morning / When you silently cried out loud / But I heard you . . Breath by breath we'll stay here together / Breath by breath until it gets better / Breath by breath you'll begin to feel the light / Breath by breath you'll find your power / Breath by breath in the darkest hour / Breath by breath you'll begin to feel the light.
This beautiful love ballad reminds me of the great love songs of the 1980s, but still features modern instrumentation which makes it timeless. Van Sant's vibrato on this track is FIRE!  The way that Van Sant executed her vocal, with a calming range and carefully selected pausing, patience, and poise is just what the song needed to make it classic.  The entire production of this track, from the lyrics to the vocals, to the music all illustrate both resilience and transparency.  It is as if a person slipped a love letter into a blue bottle and set it off to sea.  AWESOME!
Finally, the cover of Nancy Sinatra's "These Boots Are Made for Walkin'' features Van Sant contributing a sassier vocal and more energized instrumentation.  This type of vocalizing breathes new air into a classic hit with lyrics that sing:
You keep sayin' you've got somethin' for me / Somethin' you call love, but confess / You've been messin' where you shouldn't'a been messin' / And someone else is gettin' all your best / These boots are made for walkin' / And that's just what they'll do / One of these days these boots are gonna walk all over you.
On the original track, it is as if the music and the vocal are two separate forms.  The Wag's rendition showcases a wonderful pairing of song and artist.
It is no secret that The Wag is a band.  What sets them apart from bands of today is that they can write, sing, and play some rockin instruments - it is not just players in this act, there are vocalists and musicians.  The skill it takes to compose music this way is rarely seen in today's music.  This brings me to a summation of the level of value this album gives to its fans. 
Each track showcased in this review are the giants of the collection, and each places a spotlight on the threading theme of the album:  resilience and transparency - greatly illustrated with the use of glass and metal.  Throughout history, many things alluded the public to take notice of levels of expertise.  We see this in clothing, jewelry, and cars.  This is also seen when things are contained in glass.  Containing elements in glass shows the fragility and the worth of whatever is within the glass. Food for thought?  Blue glass signifies purity and copper is known to have healing properties.  
Of course, this is not a history or medical thesis - but, when a band as pure, talented, and full of wonderful stories create a collection of music that is labeled "Blue Bottles and Copper Coins," one must understand that there is a meaning behind it.  When it comes to the title of The Wag's latest album, for me, this collection of songs highlights the band's evolution throughout the years - the fragile times and those times where the validity of their worth was questioned.  The unity of this band helped cement their worth and they came out stronger as a band.  The lyrics and music they produce just adds to the backstory as it heals by being cathartic.  In addition, the stability of the band resonates in the songs penned through the decades.  This is a great homage to the journey - where it has been and where it is going.  This is their 25th anniversary, so it is fitting to create a collection of songs titled Blue Bottles and Copper Coins.  
The Eurythmics were just inducted into the Rock N Roll Hall of Fame - I think it is time to induct Indie Music bands into the Rock N Roll Hall of Fame.  It is bands like The Wag who are not only needed in such company, but also deserved.
Website: www.thewagband.com
Facebook: www.facebook.com/thewagband
Twitter: www.twitter.com/thewag
Soundcloud: www.soundcloud.com/the-wag
Youtube: www.youtube.com/user/TheWagBand
————————–
Supporting Musicians:
Arielle Strauss – Bongos
Michael Brett – Guitar and vocals
Ken Masson – Drums and percussion
Ralph Capasso – Saxophone, drums and percussion