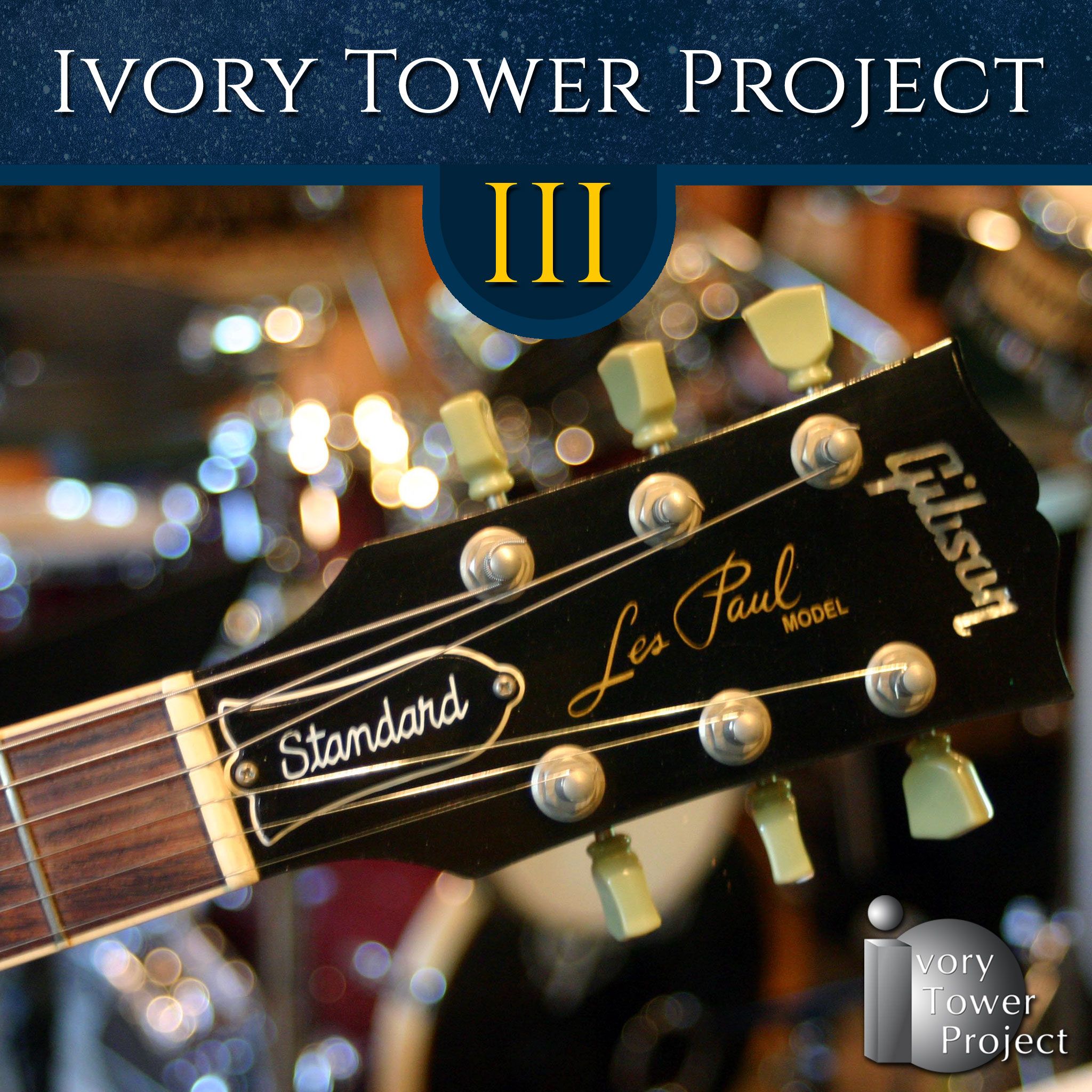 Has anyone reading this review ever wondered why so many commercials on television have been using songs from decades before the 1990's to represent their product?  The answer is simple – people miss GOOD music!  That's it! 
When I am driving in my car, I rarely turn on the Top 40 music stations as I opt to place in a CD from a band I have reviewed or a classic artist.  Sure, I do listen to music that is trending to keep my ear on new musicianship in terms of technology, studio FX, etc., but when it is time to unwind, travel, or set the mood of a party, then it is the classics. 
It is that very reason why I adore Ivory Tower Project – this band commemorates the classic Rock music and blends it with modern affair.  The last album How Much More was so fab, I stated it "is not the typical t-shirt and jeans type of Rock, it is a top-hat with tux and tales matched with Converses type of Rock.  No gimmicks, over-excited FX, too much digital, or lazy vocals."  And this time around, Ivory Tower Project has pushed the envelope once again. 
The album is simply called ITP III and it is a great musical illustrator that good things do come in threes. 
I will be referring to Ivory Tower Project as ITP.  
This is my interpretation of ITP III.  Let's jump right in, shall we? 
"The Thrill Is Gone" opens the album and ITP offers us a more Rock influenced adaptation of the Rhythm and Blues classic.  With ITP increasing the tempo of the song a bit, it adds a raw and sexier vibe.  Moreover, the addition of a distorted guitar opening the track gives the track more fire instead of straight depth as was the case with B.B. King's rendition.  And what awakens this Blues meets Rock track even more so is the lead's vocal being more elongated and raspier like 80s soft Rock.  Nice kick. 
Next on the list is "Brother Louie."  And what was once a Soulful track recorded by Hot Chocolate in 1973, has now become a modernized Funky Rock track.  ITP has transformed what was once a Soulful track into a guitar/percussion-driven song.  In addition, they replaced the leads that were once sung in unison to a solo lead.  I love the wah-wah guitar laced throughout as well as the contemporary tech FX.  The harmonious chorus, and the guitar solos placed throughout, ignites this track at makes it more ROCK and NOW!  ITP rendition is cleverly spiked!  
"Tush" is the third and final cover track and features a great play on the ears as ITP did a spectacular production on this track.  Adding sustained, distorted, guitars to this ZZ Top favorite instantly give the cut more edge.  And as with the other cover adaptions, ITP also made sure to place their signature Rock fingerprint on this version.   
And, what a wonderful way to close an album of cover tunes than to include an original instrumental song.  
"Jim's Song" showcases what noteworthy about ITP – that brooding Rock stamp!  So, if you love those classic 1970's guitar-driven Funk tracks, then "Jim's Song" is your SONG.  Featuring a blazing sax, varied guitars, and galloping bass – this track speaks to the inner outdoor arena fan in all of us.  
Before I close this review, let me reintroduce you to the members of Ivory Tower Project:  Mark Regula (vocals, keyboards, acoustic guitar, bass, percussion) and Tony Novarro (guitars, bass, percussion and engineer).  Yes, some big sound vibrates from off this album.  Additional musicians who assisted with ITP III are:  Bruno Pezzulich on Bass, Zoe Grella on Drums/Percussion, and Gary Flood on guitar ("The Thrill Is Gone").  That is called skill ladies and gents. 
When I said earlier in my review that ITP has pushed the envelope once again this time around, I meant it.  Did you hear it?  
ITP III is an upgrade, not a redo, of hits that we love.  This was a wonderful adaptation of classic great hits.  And what I love about ITP, they kept the overall core melodic foundation of the songs but built in their stylings by way of tempo and arrangement not sacrificing the integrity of the tracks.  It reminds us of how music is supposed to sound to the listener, and it is a great bridge to connect yesterday to today.  This album keeps us looking forward to more from Ivory Tower Project. 
ITP III is available for purchase on Amazon, Amazon UK, and Apple Music. 
(c) Lakisha D. Skinner