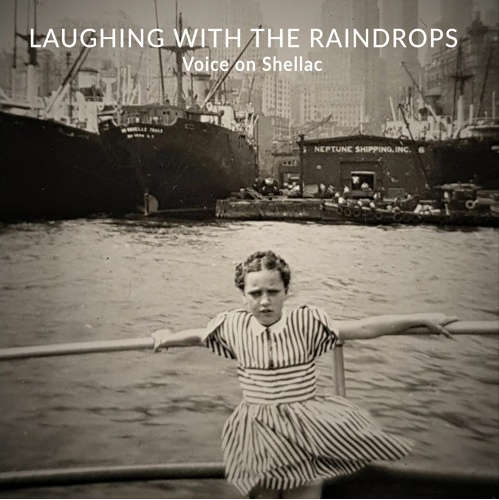 I was introduced to Laughing with the Raindrops years ago, and their music never ceases to amaze me.  What I noticed about their latest work is that it is very cerebral, yet vulnerable and relatable.  Releasing 13th April 2022, Voice on Shellac is a descriptive collection of music that imprints on your brain the purpose of memories with no fluff just practicality in the same manner that early sensibility gets a message or moral across better than an educated lecture. 
There are nine tracks that make up this LP:   
Voice on Shellac 
Perro Caliente  
Who is Eduardito?  
The Letter  
Two Runaways  
1974 Part I – Life Is Beautiful  
1974 Part II – Life Is Full of Surprises  
1974 Part III – Life Is a Bitch  
Voice on Shellac (reprise)  
Each song lays bare its own story while keeping with the theme of family and the journey one takes within that microcosm. 
We start with the title track which is a lovely ballad that strikes a perfect chord on the heart strings.  In all honesty it is a love song, but not like your typical love song from a lover to another, but of a grandmother to a grandchild where those memories heal new experiences in the granddaughter's mature psyche.  The layered strings and brass accentuate the nostalgic vibe of the track, but it is Virginie's poetic vocal prowess, and Paul Higgs on muted trumpet that places this song over the top. 
Bringing some Funk flare and extra personality with Samba, the second track "Perro Caliente" is infused with pure passion which wonderfully describes the male character of the song – a man who personifies the term "Avant Garde" in that he embodies what it means to be a renaissance man – not understood at times, but adored, hated, and loved.  The French language sang by Virginie just adds to the mystery of the lyric.  Theo Travis brings the spirit to the track with his tenor sax solo; Alexander Keen on Bass brings the heart, and of course Neil McBennett's guitar just adds spine! 
"Who is Eduardito?" is a beautifully descriptive track that relates how family, and what makes up each element of that union, can be very confusing and mysterious – in this case, the little boy in the photo who longs to be with his sister who is across the ocean, Virginie sings: 
Who is Eduardito? 
The little boy on the photo 
Holding a big balloon so tight 
In the summer bright light 
Smiling for the camera 
In the squinting sun of Venezuela 
The dual harmony on the track illustrates the two sides to the story.  Paul Higgins' flugelhorn solo was smoken! 
The fourth track starts with the sound of fast fingers typing on a TYPE WRITER!!!  That alone brings the past into the future.  "The Letter" tells the story of divorce, an often sad part of family life.  Even though divorce sometimes is the best decision, it leaves things broken where "fiction" lives in its place; "lies" continue to circle; and "the facts" appear, leaving another to put it all together to make the true story. 
The fifth song, "Two Runaways" mentally will take you away on a voyage.  Featuring a Reggae Dub and another great solo by Theo Travis on tenor sax, this is the hoorah of the collection.  A song about two taking a journey across the globe really relates how life can be such an amazing journey in itself, especially, when it is shared with family.  The sense of freedom this track alludes will reawaken in the listener an urge to just BE and stand in existence.  The way this song was lyrically presented, as well as the precision of the musicians on their instruments, "Two Runaways" really sets up shop in the listener's core and reminds us that every event will become a memory thus becoming a part of one's entire being. 
I will review tracks 6-8 together as they are three parts of a whole experience in 1974 that form triads ingrained in different facets of the writer's life:  
1974 Part I – Life Is Beautiful  
1974 Part II – Life Is Full of Surprises  
1974 Part III – Life Is a Bitch  
Musically and vocally, this trilogy starts out very mellow with the threading instrument being Gabriel Keen's piano and Virginie complementing all instrumentation with focused vocals.  Then, the track picks up the pace with snares and Virginie chooses to do a free-flow approach to her vocal execution which is a great productive technique as it resembles thoughts separately coming together to form an image.  Finally, in comes the Funk – and it is time to just groove with David Ingamells on drums.  In addition, I love the varied vocal effects and backing vocals brought into the song that makes it so surreal in its approach (I hear you Lutfia, wink).  
Lyrically, Part I illustrates where life is seen as beautiful (youth).  Then, Part II where the surprises of life begin to unfold – I would call this time the teenage years.  And finally, Part III, the part of life that we all sometimes want to evaluate, control, and evolve into something we think is absolute – that's adulthood.  This is when we see life's moody sides.  This is the part of life when we become our saddest, most misunderstood to ourselves, and angriest, because we see things we COULD NOT control and things we CANNOT control.  Still, this is the part of life when we become our STRONGEST. 
The LP closes with "Voice on Shellac (reprise)", and it is the Cognac of the collection.  This is the time when you light up a cigarette and take a sip of life.  Smooth instrumentation and smooth vocals.  Everything is said, nothing left to say, but BEAUTIFUL! 
The metaphorical songwriting on this LP is very expressive.  A universal short definition of the term "Shellac" is a resin that is processed into either dry flakes or liquid and functions as a tough natural primer.  This is a great metaphor for family, how the memories are all separate but can come together to form a bonded spirit within an individual that makes a person stronger.  
The Rock band America once stated that "in music, no matter how much technology becomes involved, or computers, music will always go from the head to the heart to hands and then the ears."  Voice on Shellac brings those words into truth! 
To listen to this LP or to purchase a copy, go to the band's page, also follow them on Twitter and Facebook.  If you are in London (UK) area, make sure to catch Laughing with the Raindrops at one, or all, of these upcoming live dates: 
Sunday 10th April 2022 
1.30 pm 
Etcetera Theatre, 
Camden, London NW1 7BU 
Sunday 22nd April 2022 
7.30 pm 
The Rosemary Branch Theatre, 
Islington, London N1 3DT 
Friday 10th June 2022 
7.30 pm 
Impact Community Arts Centre 
Perivale UB6 8GP