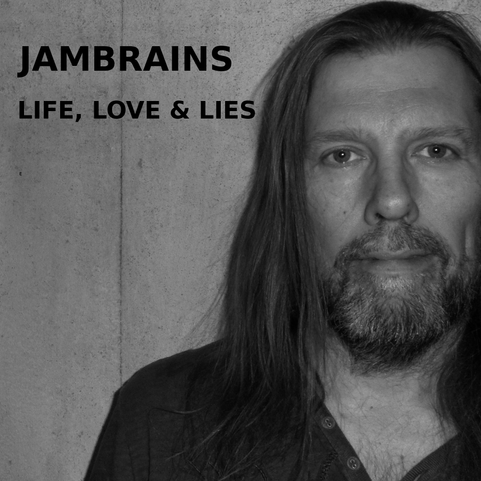 How long it's been since we, the listening public have been graced with great melodies and lyrics in one collection – real memorable music all housed in one album or EP with no filters or collaborations?  It has been a while.  
We were visited by the likes of such artists years ago – artists that developed and published music that featured ah-mazing melodies and lyrics, for example:  Lionel Richie, Richard Marx, and Jon Secada.  But as rare as it is, there are still artists out there producing such great music.  In the Indie Music realm, we have Jambrains. 
Jambrains is the solo creation of Swedish multi-instrumentalist singer-songwriter Johan Alm.  
Johan's music career started as many singer songwriters do, playing in many bands until he decided to go solo.  It was in 2014 when Johan decided to take the solo route and created Jambrains which he stated was the "vehicle" delivering what he calls "power with melody."  
His debut album "900 Days" was released in December 2016 and documented the 900 days of Jambrains from its inception.  "900 Days" was well received and displayed the musical direction Johan was taking as a solo artist.  His most recent EP is entitled "Life, Love & Lies" (released September 2017) and it has seven tracks: 
Since I Met You

Lies?

Sign Your Name

The Curse of Shane MacGowen

One Day We'll Die

Leave No Stone Unturned (Redux)

Until It's Time to Part 
"Life, Love & Lies" was aired on Swedish radio and two of the songs reached semi-finalist positions in the UK Songwriting Contest. 
This is a review of "Life, Love & Lies" with the inclusion of "Fade" a single released January 2nd which preludes additional singles to drop this year. 
In both the full EP and the single, there is a distinctive blend of Pop, Rock, Folk, and Alternative music framing powerful guitars, strong melodies, and straight-laced lyrics to evoke a high level of songwriting that interprets the three most prominent things that affect the human condition:  life, love, and lies.  
Starting with "Life, Love & Lies," of the seven tracks, four portray this overlapping theme in connection with the single track "Fade" – I will touch on these tracks in this review. 
We start with the second track entitled "Lies?" which clearly alludes to the theme of the EP.  "Lies?" is the first swift-paced track on the EP and it relates the story of how from childhood to adulthood we are told lies to mold us into what society feels we ought to be, Jambrains sings "Lies! They start out small / lies! They soon grow tall / lies! lies! lies! / they build up a wall / lies! time for it to fall."  This Alternative Pop track has aggressive vocals complimented by distorted guitars, bolting percussions, and a soaring chorus. 
The fourth track, "The Curse of Shane MacGowen" showcases Jambrains in a more Celtic-fusion oriented setting and features Karen O'Mahony on tin whistle.  This pub-worthy anthem-ready track is sure to be a crowd favorite presenting old-world Folk instrumentation and a crowd-yelling hook that stays with you once the song concludes.  Jambrains' lyrical storytelling puts you in a high-school frame of mind and tells the wistful story of his junior high school and collegiate years where the talent-bug bit and the people began to see him for who he truly is – an artist and a singer.  Such a sole rendering lighthearted track that any artist can relate. 
"Leave No Stone Unturned" (Redux) is the sixth song in the collection of "Life, Love & Lies," and it is pure ROCK.  Piggybacking off of the style of Rock bands like Def Leppard and Metallica, Jambrains' guitar riffs sharpen the effect of the overall listening experience making for a gasoline-driven honest track about living life to its fullest and not taking any opportunity for granted.  Jambrains drives this theme home by singing "Before I face my curtain call I want it now I want it all / I will run while others crawl / I will rock before the fall / Rock before the fall." With doubled percussions, multi-layered melodic guitars, and harmonic vocals, this is the brass knuckles of the collection.  The music pull-back at point 2:21 is splendid and gives way to a musical die-hard build-up.  This is worth a triple listen! 
One track with an emotional beginning is "Until It's Time to Part" – a subtle ballad with a yearning piano featuring Jambrains singing in a lower register.  This lovely Soft Rock Adult Contemporary track appears to be inspired by the love between a father and a child.  Words like "Don't walk ahead / I may not follow / Don't fall behind / I may not lead / Just take me by the hand and walk beside me / I'll guide you / until it's time to part . . . And when I cannot / walk any further please don't you shed a single tear / I'll still be by your side as long as you remember our time before we had to part" display the tender care and protection of a father and how a caring parent chooses to stay in the shadows while you explore the light.  Pure love.  Employing the musical technique of a synthesized underlying hook makes this mellow song strongly memorable.  The melody by itself captivates the listener – you are actually rising and falling in melodic hills and valleys.  But when that skilled melody scheme is accompanied by the honest lyrics of Jambrains, this sole song makes your eyes swell with happy tears remembering the memories of your own childhood.  I loved this track!! 
Which bring us to the 2018 single "Fade."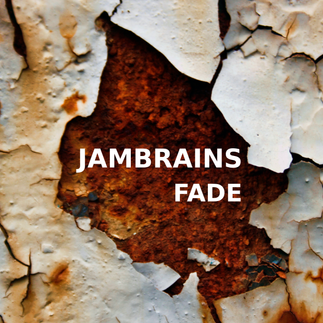 "Fade" is a lyrical letter depicting how fairytale dreams and aspirations can fade to gray if they are not played out to their fullest colors.  Jambrains sings "we've should have known it was too late / pulled over by the state patrol / a broken taillight sealed our fate / we turned the car around and headed back from where we came / and before we even knew it / we were trapped and slowly we faded / to gray / we faded to gray / to gray."  In agreement with the above tracks from "Life, Love & Lies," "Fade" fits well with its musical direction, but in contrast it ebbs a little towards another direction – a more raw execution, not as subtle in impact as the preceding tunes.  This twist is a great choice from the artist.  The subtle modulation in the verses and the melodic changes in this cut set your mind to thinking of life and its decisions whether good or bad and how to piece together the remaining parts before they turn to gray.  This track features none of the heavy synths that are popular currently in music, it is just Jambrains' soft vocal combined with classical piano chords, an acoustic, mellow drums, and a dynamic amped guitar solo that comes in and adds salt at the right moment highlighting the emotion of the overall track. 
What we have here is what I call the "Jambrains' Effect" – that hypnotic feeling you get when you listen to good music and that effect that makes you want to share it and keep it alive forever.  
The EP "Life, Love and Lies" and the single "Fade" is proof that the name Jambrains is a fitting pseudonym for Johan Alm's music as his solo musical creations truly does jam right into your brain causing a sort of gridlock effect with melodies neurologically settling in your mind allowing the melodies to stay with you. 
Try this effect by going to @Jambrains or  https://open.spotify.com/artist/71BXPr8SQ6DnkvYzDKOk46 to hear more from Jambrains – there's more to come!