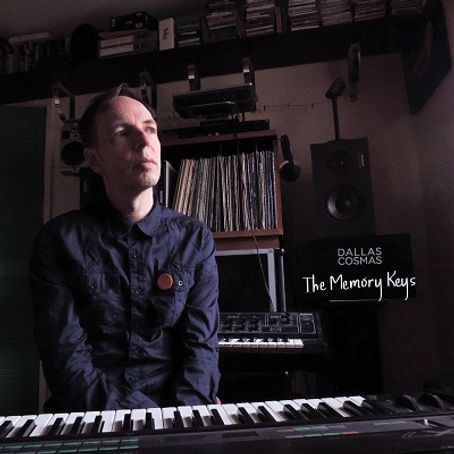 When I think of Australia, automatically, three musical memories come to mind:  Oliva Newton-John's "Xanadu," The Bee Gees' "Stayin Alive," and the lyrics by the 1980s "Men at Work" tune "Down Under" that sings – "Do you come from a land down under? – oh, yeah, yeah."  But now, I can add a fourth musical memory – Dallas Cosmas' "The Memory Keys." 
Dallas Cosmas is under the radar but is quickly gaining recognition in North America and Europe.
Cosmas is a singer, songwriter, multi-instrumentalist, producer, and owner of Prototype Musique from Melbourne, Australia who has played with various bands over time. 
As a solo artist, Cosmas frequently collaborates with local artists and musicians.  On this recent release, Cosmas joined forces with 8 musicians, vocalists, musical engineers, and musical directors to record "The Memory Keys":  Simon Segal, Wayne Rintoul, Paul Richards, Wally Rankin, Brother To The Birds, Matthew Shadwick, Evan Englezos, and Martin Pullan.  Together, these artists have painted a stunning picture as "The Memory Keys" is a vibrant collection of thoughts, experiences, and revolutions set to music.  
This is a review of Dallas Cosmas' "The Memory Keys" that includes 12 Pop Rock tracks: 
45 Revolutions
The Midnight Road
Bang Bang (The Chorus)
A Part of Me
House Calls
Why Don't You
It's Over Me
To the Station
Meet You Once Again
The Promise
Green Girl
Good Goodbye
Each song on this CD collectively paints an eclectic picture, but these eight really framed the complete composition for me – starting with "45 Revolutions."  
With just 11 notes of "ba ba ba," you're hooked to the first song on the CD – a fun 1980's style tune laced with simplicity and enthusiasm.  This quirky cut will get you moving from the intro to the conclusion.  Spliced in the middle of this track is a prevalent bridge filled with music that takes you away and then draws you back with the percussions taking center stage.  You truly revolve with "45 Revolutions."
I can definitely see "The Midnight Road" as a film score for a cult flick where people are just all jammed up with carelessness and confusion until they gain clarity by reaching out to "somewhere out there."
On "Bang Bang (The Chorus)," Cosmas chose to use a subdued effect on his lead vocal which adds to the mystery of the track.  The funk-laden accompanying music puts your nerves on end.  I appreciated the transcending vocal leading into the hook.  The changes in this track is so reminiscent of the Beatles seasoned with Cosmas' other-worldly grooves.  Love the cellos creeping into the mix.
"Why Don't You" is one sexy song which delivers a nice contrast of highs and lows vocally bringing in more depth to the album.  This is a pleading question for love song.  I was drunk with adoration for that crying guitar.
I call "It's Over Me" the blue and yellow song as it has a dual emotional effect of sad and happy.  It is positioned at the right place on the CD as it balances the overall artistic tone in just two minutes with its blend of mentally appealing contradictions of opposite notes, chords, and effects flirting with each other.  The way Cosmas starts this song solemnly and then pleasantly modulates into the hook with strong prowess is breathtaking.
"To the Station" is the eighth song and it gains your attention with a resonating guitar that echoes throughout the song.  The second verse introduces the title of the album and the dual vocal effects joined with euphoric synth effects in the bridge makes for a good production.
Elevating the mood of the selection before the CD closes is "The Promise."  The thrilling violins introduces the track which soon hurls into an up-tempo pop-laden bounce.
When is goodbye good? When you're letting go of anything bad, negative, imprisoning, crippling, or unfair that's when.  "Good Goodbye" in a nutshell speaks on many terms of society and the ill effects it has on creativity and living in general – Cosmas even alludes to political injustice with the lyrical statement "goodbye, ta-ta, Reaganomics."  In addition, Cosmas musically illustrates how saying farewell to the problems that bind us will allow us as a whole to alter the sad course we're heading towards socially.  This song is packed with mellow-yellow vibes varied with warm barbershop-like harmonies and a passionate lead.
In a recent press release, Cosmas stated that the essence of his songs come from dreams and that "the visual becomes very potent to drive the direction" in which his songs take shape while the "composition comes from an undefined place with a little help from the rationale."  Tackling songwriting with this approach allows for Cosmas to color outside of the lines so-to-speak and make his own rules while still valuing the sketch laid by music greats.  This, in turn, truly allowed Cosmas to create a very creative, mellow, surreal album that embraces some flavors from the Beatles.
To conclude, I see this CD as a piece of art that will be interpreted differently by every listener as we all will take something different from this piece.  Yet, similarly, we will be touched musically to embrace every stroke of the guitar like a paint brush, every splash of color wrapped around each vocal, and every hint of shadow and light from each note. 
This musical canvas illustrates "unfiltered sound" with no over processing – a refreshing deviation from the Top 40 artist's normal redundancies in today's music culture.  On this CD, you hear the work of a true musical artist:  a voice, instruments, and a message.  I have respect for artists who are not afraid to color outside of the lines, and to do it with skill takes courage.  As Cosmas says "music knows no borders" and I agree!
Which song of Dallas Cosmas is your favorite off of "Memory Keys?"  Let me know!
To listen and/or purchase Dallas Cosmas' music, go to: 
http://prototypemusique.com/Releases/the-memory-keys/ and follow him on Twitter at @PrototypeMusiq.