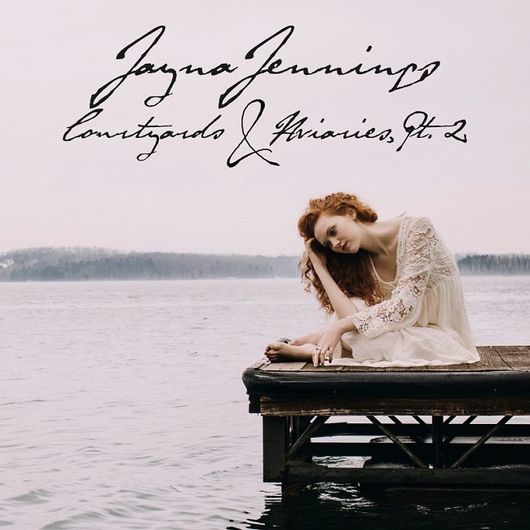 It is so fulfilling to receive new music by artists that first captured your ears earlier on in their career – to see them climbing higher and creating wonderful music. 
Just to recap, Jayna Jennings is an American singer/songwriter/musician hailing from Georgia USA who has quickly gained deserved recognition from many media sources.  Jennings has penned two Eps, "Safe and Sound" (2016/Christian) and "Courtyards & Aviaries Part 1."  
Her latest "Courtyards & Aviaries Pt. 2" plays like the flipside of a mellow record with its bold rhythms and unapologetic storylines. 
In June of this year, I reviewed "The Blue," the first single off of "Courtyards & Aviaries Pt. 2."  "The Blue" was the perfect choice for a single as it was a wonderful hint of what Jengers (fans of Jennings) would expect from the album in general. 
"Courtyards & Aviaries Pt. 2" does not stay true to its predecessor in terms of being an Americana album with some elements of Country, Blues, and Pop Rock, because differently this collection features an edgier feel to the album's core melodies and the artist's vocal delivery.  Musically, the album is rooted in Country with Pop and Soft-Rock undertones and heavy rhythms, guitar-driven hooks, and swifter tempos.  
The track list of "Courtyards & Aviaries Pt. 2" is: 
To Narcissus

The Blue

Sounds of the Wind

La La La

Don't Hurt Me

Free

He Breaks My Heart

On the Way Down

All the Other Roses 
This is my interpretation of the album's six highlights! 
The album starts with the radiant Soft-Rock "To Narcissus" – a wonderful metaphorical song that illustrates how some lovers are too vain to love another and how women must often gamble to find what they deserve.  This song is quite elegant with its flavorful guitars that set the rhythm of the track.  Within this song, Jennings name-drops mythical male power figures, like Narcissus (mentioned in the title) a hunter who loved himself more than others, and Jupiter, the god of the sky and thunder.  The lyrics describes the song's theme:  Is your reflection all you can see / If there was no one else would it be me / Lift your eyes from the water / The flame is burning higher / And there remains a voice . . . Jupiter is in the city city and you are / Chasing hearts like frightened deer oh dear / My love like an echo in a dream a dream a dream / Of the blue and the sounds of the wind / Can you feel it too? / Say you love me and you do.  "To Narcissus" is like "Twinkle Twinkle Little Star" all grown up, and it is written like a letter from a woman to herself with hopes of what she wants in a lover.  Saying 'I am worth it' with a Soft-Rock song is major! 
And, you would never think that a song about love's unpredictability could sound so smooth until you hear "The Blue."  
The impression that Jennings leaves on your ears with "The Blue" is as rich as chocolate and smooth as silk. The melody is layered with vocal expressions and modulations which equally supports the soft soundscapes, bass drum, and guitars.  Honestly, the more she soars the further you want to go with her lead – she leads, and you follow her into the BLUE – that tranquil place of unknowing.  The lyrics sing: You are an ocean and I'm drowning / you're deep and blue I can't swim but I'm trying / your love is wide and long I'm starting to break / I'm lost in your love I'm caught in your wake / you are peaceful then a storm / you're everything I'll ever want and more / your love is far and way / you're a storm about to pour / I'm gone in your waters you're who I adore. 
With each line she climbs a little bit more reaching a further height.  Then, she trills right into that middle tonality showcasing her prowess, spilling her emotions.  Then, she goes right into that infectious hook, and just holds it there with the candid exoneration singing, THE BLUE!!  Choosing descriptive lyrics to drive home her point of passion also illustrates the openness of her affection as well as the realism of the track.  
The fourth song "La La La" is about embracing differences, being adaptable, and healing from pain.  This track has a refreshingly Alternative Country Rock sound with the crisp, inundating, synths paired with the single guitar.  "La La La" grows with the inclusion of electric guitars and nice chamber-like backing harmonies that adds a bit of rapture.  The hook of "la, la, la" is emotionally stirring.  This song is dangerously infectious – it will not get out of your head – which isn't a bad thing!
"Don't Hurt Me" is very reminiscent of early Dolly Parton with its sincerity and practical styling of the hook's melody.  Storytelling in its approach, this song features fiddles, banjos, and a deep bass bottom.  Jennings belt out lyrics that tell the story of a woman expounding her pain but standing in her truth.  This is a tearjerker in a non-traditional way with Jennings choosing to elongate her lines really affecting your emotions making you reflect and get a bit blue, but at the same time, incorporating bouncy instrumentation in places to keep it modern and fresh and not too weepy.  
And if you are looking for a song that plays very much like a Roxette track with exhilarating guitars, euphoric synths, and a lyric that holds passion and power, then "He Breaks My Heart" will be your song.  
"He Breaks My Heart" sings about settling for what's in front of you when your circumstances do not show a better path.  With the soft guitars and percussions, this song plays like a nice PM-radio Country-Rock track that has a nice wide Contemporary sound.  The layered vocals add texture, and the way Jennings spaces her vocals on the hook adds a thought-provoking effect.  The leads are almost conversational and that makes the song very approachable.  The lyrics sing:  he breaks my heart / I forgive him way too fast / just forget and let it past / he breaks my heart / he just keeps me hanging on . . . I just give up and give in / let up and let him make believe he'll change / I know he'll never change / he breaks my heart.  In other words she's saying, he breaks my heart, but I love him anyway and that breaks my heart too.  What's more, the way that Jennings wrote this song is very edifying in that the lyrics clearly describes how sometimes things are not a bed of roses, and in some instances in life, that's okay. 
The closing song is an eclectic infused Country-Pop track featuring bongos and maracas as its core percussions giving the song a wide gait and a hot rhythm.  "All the Other Roses" is very upbeat and laid back.  Here Jennings describes a relationship where everything is wrong but feels so right, and how the protagonist is willing to play this game of pleasure and pain as no other makes her love so much.  Jennings fervently sings: It feels so wrong; you're telling me lies / Feels so right looking in your eyes / I just keep falling falling / Cause something about you drives me crazy / All the other roses have far fewer thorns / Feels so right and hurts so bad in your arms / I know I've just myself to blame / I'm drawn to you like a flame / But all the other roses all the other roses / Wouldn't be the same. Something about you / Yeah something about us drives me crazy.  Her passionate phrasing leaps this song above other ballads that are playing on Top 40 lists right now.  This song also shows Jennings' full scale of songwriting and singing.  It positions her in the middle of her competitors.
Just like the second installment of a play, a movie, or a book, where the anticipation grows, and the thrills increase taking the entire piece to an entirely different course of its predecessor, similarly "Courtyards & Aviaries Pt. 2" unveils the other side of the artist's emotions – she brings more passion, more power, and more restraint at times too – she's a little more sly with some added torch placed into the mix.  
Furthermore, "Courtyards & Aviaries Pt. 2" is sort of a myth-revealer as it breaks the stigmas that some have come to see as the norm – for instance, many think that all ballads are love songs, some feel that women today refuse to show their softer side in fear of appearing weak, and then we have public opinions about love in general, that chivalry and love is dead.  But in the songwriting of "Courtyards & Aviaries Pt. 2," Jennings have given us songs that pill back the myths and places a slash across their opinions.  We hear songs where the title suggests a ballad, but we hear an up-tempo track.  Then, there is a song where the female is unafraid to display her unrelenting affection for her lover; she's unafraid to show a softer side.  Even still, we feel the honesty inside of pain and the sentiments of settling for less than when the circumstances do not show another path.  So, it shows the other side of female empowerment. 
Jennings' range on this EP is amazing!  She gracefully balances her vocal dexterity by including an open range with clear trills, passionate vibrato, and deep belts all without overextending herself or relying on trends.  
In addition, Jennings fully contains herself within the songs on her album leaving nothing up to the imagination of the listeners – you truly do hear her story inside of each song.  That is because Jennings maintains the artist's point of view instead of the observer's point of view within her music.  She is reflected in her lyrics and melodies.  You will never hear a copy and paste method of artist production where another creates and the artist depicts that translation to the fans; no, she single-handedly sculpts the story and depicts it.  And THAT is where the realism and the morality of her music lives. 
With Jennings' creation of both "Courtyards & Aviaries Pt. 1" and "Courtyards & Aviaries Pt. 2," we get to a Goldilocks zone within music as we get to the right mix of both sides of the heart. 
This album will give you a dose of reality with a tinge of honesty and will live with you forever.  Make sure to download Part 1 also.