"Rockstar"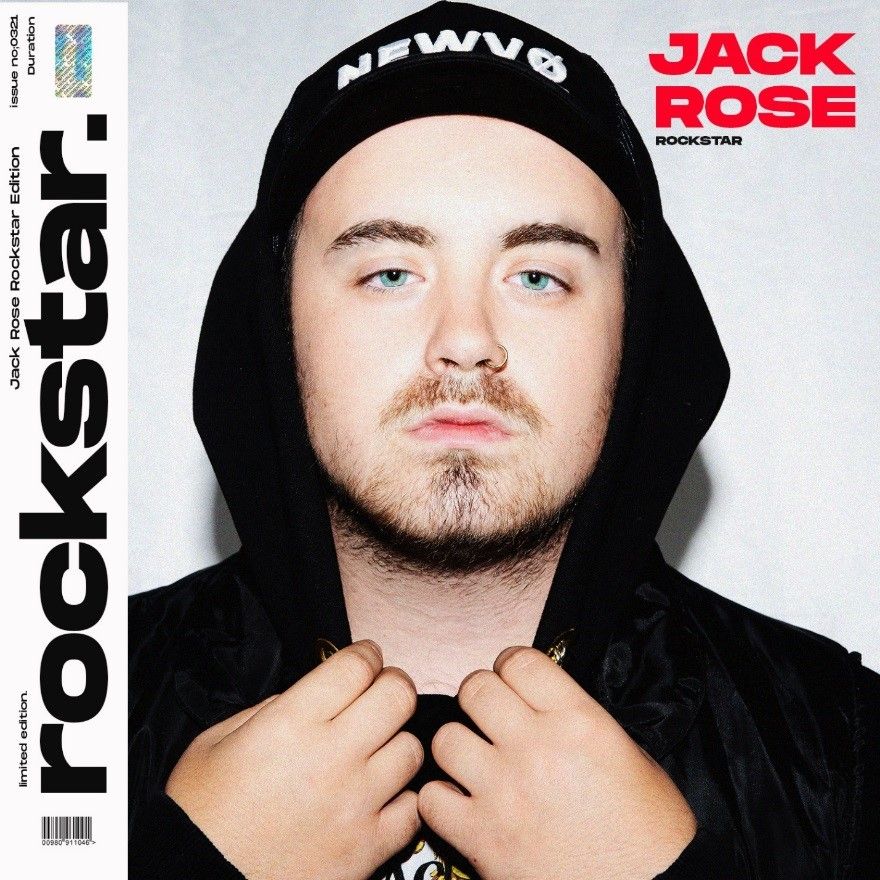 The music industry is full fascinating artists, not to mention artists within subgenres of music.  So, what makes an artist relevant and worth listening to today must be in their journey into the music, as well as their individuality in their artistry.  I've come across such an artist who has surgically cut his way out of the crowd and has made himself a standout artist.  His name is Jack Rose!!  Klef Notes had the opportunity to talk with Jack Rose.  Just released February of this year, his latest cut "Rockstar" is dominating charts and making noise.  In this interview, you will learn more about Jack Rose's start to fame, his roots in music, how he feels about the virtual music scene, Ghost Hunting, and what's a typical day in the life of a ROCKSTAR! 
Let me first say that I am a fan, bro.  I have heard mad good vibes circulating around your latest track.  So, what's the story behind the artist? what made you want to break out into the music industry, I mean, were you rooted in music? 
I've wanted to do music from a young age. Growing up I loved High School Musical and went to performing arts clubs on the weekends and that sort of made me wanna start doing it more and more! 
As a producer, singer, and songwriter, how do you juggle wearing so many hats on a project? 
Haha, It's easy, my hair because of lockdown has been atrocious so I've been living in hats and beanies for the last 6 months to be honest. 
Funny, but totally understood 😊 
How do you come up with your storylines? 
Rockstar is very different; Rockstar was just a vibe I felt when I heard the beat. However I normally write about stuff I've experienced because I feel like it can be relatable to other people. 
Spoken like a true creative.  And that is so true, when songs are written from actual experiences, they are more relatable. 
So, after listening to "Rockstar," is it no secret that your full artist persona is full of swag, and you have the ability to cross multiple genres?  Were you always so multifaceted and cool in your vocal execution?  
It's definitely become more prominent recently but that's just because my voice has fully dropped, and I've gotten a lot older than when I first started. When I was younger, I could keep a tune, but my voice would go out of tune sometimes. 
And, coming off of the esteem of "Better on My Own," what is the backstory behind your latest song "Rockstar" – it is more than just a title, isn't it? 
Yeah man I can't even deny that haha. It was just a vibe that I felt, and the original beat just gave me a huge vibe and I just wrote down the first things that came into my head. 
What other genres have you not worked in yet that you want to give a try? 
I'm going to be real, every genre I would try, I already have tried. I've tried Pop Rock, Hip Hop, Pop, Garage, RnB, Tech House everything. But I do think that more will pop up in the future. 
I love your transparency and your ease of real talk. 
So, you've worked with some smoking producers, but in listening to your track, I could tell that you are the mastermind of your work – from the content to the lyrics to the flow of your vocals, so what distinguishes you from your competitors? 
I don't like to think of the music industry as a competition because we are all going for the same goal at the end of the day but its sometimes a case of luck sometimes it's a case of work rate. 
Okay, but it is obvious the music industry is not the way it used to be a decade ago – singles are released instead of full albums, streaming is the method to release music compared to physical CDs, and with the Pandemic, basically everything is virtual.  So, how do you feel about the future of music? 
I'm happy about it because it's the feeling of knowing people can listen to my music or any music anywhere and everywhere because of Spotify, Apple Music and Deezer.  No one my age really buys CDs anymore because what you would pay for a CD you'd pay monthly for Spotify and listen to everything. 
Do you like promoting on social media, or do you prefer old school methods of promotion? 
I know my way around social media and I'll be honest without it I'd be nothing haha. 
Ha-ha! 
Have you come across any biases or stereotypes in the music industry? 
I used to not be given chances when I was younger. So when I got booked on gigs I used to get given the slots at gigs in which I was first or second on stage just because I was young and they didn't want the crowd to '[intimidate] me' if that makes sense when at the age of 13 I would happily perform before the headline act in fronton 5-10k people. I grew up doing musical theatre and performing all the time, so it doesn't bother me. 
Yes, it makes sense.  Thanks. 
To name just one person, because you have been in some great company, how was it to tour with Faith Evans? 
It was an experience, Getting to perform at the o2 Indigo was a dream because it's the nearest venue to where I'm from that I want to perform in, next would be the o2 arena, but it was fun and an amazing experience especially after my gcses. 
And, is there anyone else you would like to collaborate with, or tour with? 
I've always said Drake, because it's a guaranteed number 1 haha. But in all seriousness. I could name hundreds. Would they be right for me to collab with? It really depends. 
As a UK artist, do you want to sign with an American record label, or do you prefer to work in the UK?  And, which market do you prefer to perform in? 
American and UK Labels work the same for me. I would always go with whoever wants me ;) but in all seriousness I believe that whether they're from the UK, us, Brazil, they're all going to perform the same. 
Can you talk about your anti-bullying tour? 
I did it when I was 14-16 and it's how I got my following and helped me raise my confidence as a performer because I did over 150+ shows in 2017 performing in Essex, Chichester, Scotland and Wales. It was great. 
WOW!  That's great that you were able to bring a social focus to bullying and gain more confidence in yourself as a performer at the same time. 
You are the host of Amazon TV series Ghost Hunting where you explore haunted sites across the UK with celebrity guests, do you want to get into other film-related work, or behind the camera? 
Music has always been my passion, but I would be opening to doing some more tv and film sort of work. I have been doing acting since the age of 8, not going to lie I'm not the greatest at it but I'm not terrible. I would happily do a tv show! 
Cool!! 
So, what's a typical day of a ROCKSTAR – that is you? 
Wake Up around 11am, Have a shower and brush my teeth, get dressed and go for a 1-2 hour bike ride, get some lunch, come home and get my football boots and go for a kick about for a few hours, come home and have dinner, sit in my room and see if I can write any new music, play Xbox till 12-1am, Try and carry on writing for a little bit then try sleep around 2-2:30. 
I like to stay up late, so I only sleep when I need to. 
​Awesome; that would make for a great reality TV show – THE ROCKSTAR DIARIES.  Just a thought (wink). 
So, any other projects in the pipes? 
I'm working on about 2 different projects right now that I'm really looking forward to materialize but with the pandemic it has been hard trying to find studio time. 
Please keep me posted when you do release a new cut. 
Do you have any online shows coming up? 
No unfortunately. I think I'm going to wait until venues are booking again because I would rather meet people in real life than over a screen. 
Last question, when did you last give yourself permission to let go? 
I went out about a week ago to celebrate some stuff in my life that I haven't been able to. Just went up to Spoons with the idea of having one drink and had many but it was the first time seeing my friends and celebrating lockdown birthdays and the release of Rockstar. I don't let my hair down often because I'm quite a boring person. 
Thanks, Jack. 
Jack Rose is an artist who cannot only grab bragging rights as to being multi-talented, but he can also tout an artistry that illustrates multifacetedness – one who can croon in R&B, fuse rhymes with a storyline, create a nice Hip-Hop / Pop fusion track, and one whose style and story has lifted him above the rest.  Make sure to follow Rose and keep your ears posted to the streets to hear more things coming down the pipelines, because, he is more than a ROCKSTAR, he is becoming LEGENDARY! 
FB | Twitter | Instagram | Artist Page