The Road Less Taken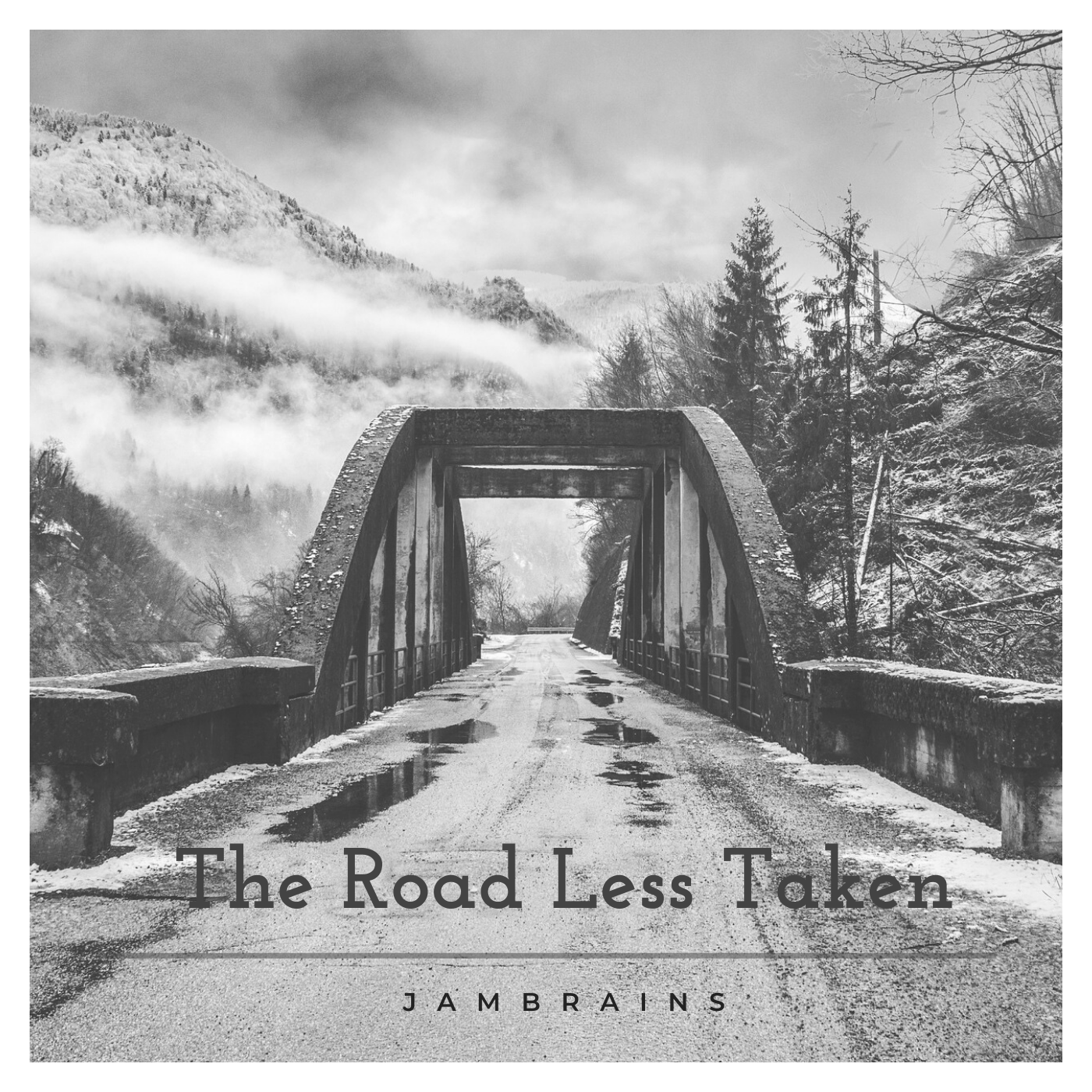 It is no secret that the music industry has been hit with a big boom of reality.  Musicians, singers, managers, label, journalists, and all within this huge industry had to adapt with the changing of times.  With this change, music had to stop, evolve, and re-emerge.  Artists who topped the Top 40 charts are suddenly neck to neck with Indie artists, and touring is the main source of BIG GIGS for all.  Honestly, it is as if there has been a balance in realms.  And while this is somewhat odd for some, this is a good view for the future of music, because the playing fields are being leveled.  That being said, the flow of music on the desks of journalists like myself had slowed down a little in 2020, but thankfully, the music began to be released again in 2021 and has remained constant.  
I wasn't going to mention the global pandemic that we have been dealing with for over a year in this review of new music, but it seems that much music coming off the electronic reel-to-reels this past year, and starting this year, have this theme hidden within the lyrics of the music, so it is of no use not to mention.  Still, while this them has gotten quite redundant, Indie artists know how to keep it fresh considering. 
This time, an Indie artist named Jambrains gifted me with an album in my inbox and it is literally DIFFERENT.  Instead of mentioning the obvious, how things have been turned upside down within society, affecting every bit of the human experience, this album shifts the dialog a bit and shows how even though this was a road less taken, the evolution of society in a whole – its love, loss, life, and future has changed to reflect strength, determination, acceptance, and reality of just being. 
Jambrains' The Road Less Taken shares this discussion in lyrical form with an audience waiting for new Soft Rock music.  The tracks contained on the album are: 
A Black Dodge Charger 
Big Dreams 
I Remember 
Pick Up the Pieces 
The Road Less Taken 
The Vanishing Horizon 
Weather The Storm 
This is my review of The Road Less Taken.  I've also asked my brand-partner Tonya to listen to this album for additional feedback – a second set of ears.  This review will focus on the stand-out tracks of the collection. 
We start with "Big Dreams," a song that holds an emotional core like a film score of a Scorsese film.  Lyrically, this track is very social in that it shines a light on the human condition of every part of the planet – the small-town events that affect so many on a larger scale.  Even though it is very civil lyrically, it is very commercial in its overall appeal.  The opinionated percussions mixed with the organ makes for a very conversational piece. 
And, speaking about a conversational track, the next song, "I Remember," begins with these lyrics:  What started out as a blessing you turned into a curse.  This third track on the album starts with piano chords that make the listener pay attention.  It begins subtle and then builds to a quick paced track – much like a relationship.  The way Jambrains wrote the song, as well as how he chose to execute his vocal and complete its entire production, makes "I Remember" very reflective.  The minimalistic approach makes the song quite impactful giving it a mood that makes the listener feel as if they are revisiting a memory.  A song about lost love will forever be penned to the listener's heart.  
The title track is very piano-driven and will easily become a favorite for many!  A song celebrating risk-takers has that motivating passion that people listen for in songs about purpose.  The electronic synths married to quick guitar riffs, hot cymbals, and Jambrains' expressive vocals give off that passion-to-pulse effect that one has when they are eager to leave their four-walls and escape to real life.  Jambrains fill this track with vivid word-pictures that illustrate what it means to "live the dream."  "The Road Less Taken" is a different style of track for the artist, as previous tracks are slow in its temp and a bit poignant in its approach.  But this track is full of life and is happy – very inspirational.  "The Road Less Taken" will resonate with the Global public, and it will remain a favorite song to come going forward. 
Last, but certainly not least, is "The Vanishing Horizon."  The song is divided into three moments of time – the past, present, and future.  The discussion of the past is spelled out in the chorus that sings:  
We ran as fast as we could run 
Escape our only goal 
From small town suffocation 
And our designated roles 
BBQs on Saturdays 
Cold Millers with the guys 
The vanishing horizon 
Matched the dulling in our eyes 
Then, the track shifts perspectives outlining the present and future in the final verses, Jambrains sings: 
Not quite a decision 
That either of us made 
But a moment of clarity 
And what it meant to stay 
It never matters 
Which road we take… 
The excitement and the newness 
As we move from town to town 
As we worked to settle down 
Turned piece by little piece 
into what we'd sworn not to become 
we lived the lives we ran from 
Choruses are often repeated throughout a song – that is not a unique feature.  Yet, to use it in connection with the theme of the song, such as in this case, shows a creative songwriting skill.  This productive twist shows how the memory of the past is constant in life, while the verses illustrate the present and future, thus serving as reminder to the listener of how the present and future are often quick moments spent but they always beacon the past.  
Another wonderful production note to take from this track is that Jambrains selected to have the word "change" act as a noun instead of a verb in that the person is also becoming something different, rather than something taking the place of something else.  Clearly, this track allows for the audience to pause and reflect on what's important in our lives – the little things that mean so much – the actual chapters of life instead of the entire book. 
Jambrains is an artist of music that really personifies the definition of an ARTIST.  He's somewhat in the background and allows his music to paint the soundtrack of living with vivid lyrics and instrumentation.  His works are truly creations from the soul that touches on aspects of global issues, the human condition, and a great story.  
Very different from Top 40 singers of today, who release songs based on trends, a moment, or an event, Jambrains' music encompasses many facets of life – from 2017's Life, Love & Lies, to Faded Dreams, where each track creatively houses the theme of change and inspires its listeners to grasp and accept those defining moments in life along with the transformation.  Next, there is Lost Horizons – a collection of songs that touch on life's most concrete emotions such as misery, optimism, and loss.  Then, we have Into the Uncharted – an album that preceded The Road Less Taken.  Into the Uncharted placed emphasis on harnessing the unexpected.  His music mirrors artists of old where the story means more than a trend.  
You see, it is not the vibe of "let me make a song to dance to, or a song that fulfills my contract."  No, it is more of "let me create good music – music that will resonate with PEOPLE, music that will live on."  This is the type of music that music journalists live to write for – these artists combine to create a SMALL collective but create music that can fill up a room.  
Make sure to place Jambrains on your list of artists to listen to this year.  Check out The Road Less Taken as well as his other works of music.  And I promise you, you will continue to listen to his music going forward.